Rohde & Schwarz XLX 8000 10W low power transposer...
This item was sold in one of our on-line Auctions / Sales. We may have similar items available in our forthcoming Auctions, or if you have equipment to sell please contact us for free valuations, advice etc - Tel: 01778 590111 / Email: info@ppauctions.com or please get in touch with us via our contact page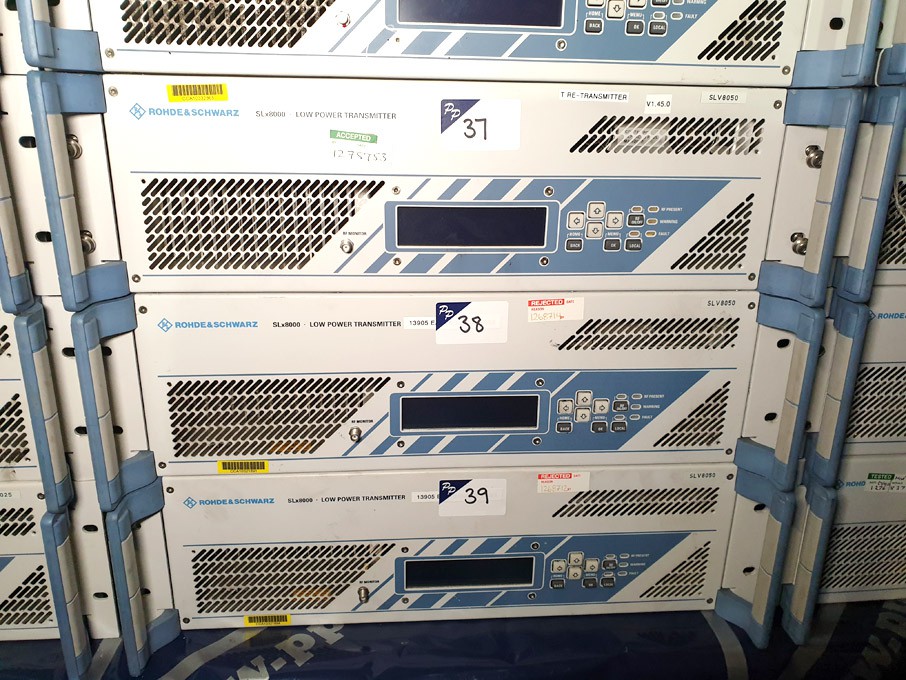 Description
Rohde & Schwarz XLX 8000 10W low power transposer - Lot located at: PP Saleroom, Aunby, Lincolnshire
Auction - Arqiva Ltd - 700MHz - Phase 3 Auction Sale
Over 800 lots of high quality Telecommunication & Broadcast Infrastructure equipment used in the 700MHz Network Clearance Program including:
Test equipment (to 2017/18) inc:
24x Rohde & Schwarz ETC Compact TV analyser, 3.6GHz in transit cases.
Rohde & Schwarz ZND vector network analyser.
5x R&S ETL TV analyser, 500kHz - 3GHz
Keysight E5071C ENA Series network analyser, 100kHz - 8.5GHz
4x Promax Ranger Neo 2 touch screen field strength meter
14x Rohde & Schwarz NRP8S 3-Path diode power sensors, 10MHz - 8GHz
19x Fluke 323 True RMS clamp meters with Fluke 117 True RMS digital multimeter in case.
23x Fluke 1662 multifunction installation testers.
19x JFW Industries 30dB rotary attenuators
34x Mini Circuits NHP800 / NHP900 high pass filters
20x Telonic Berkeley TTR500-3EE tunable bandreject filters
15x Narda 99899 NardaAlert S3 model 2270/01 mainframe, etc.
Sundry kit (to 2017/18) inc:
Spinner 3 channel power splitter, RS Components transit case, Spinner UHF filter, DB Broadcast PIE equipment, FM temporary antenna, DAB 774 846 Dipole Antenna, Sira UTV-02 panels, Kathrein 2 UHF log periodics & Kathrein 764485 power divider, EXIR COM4-STP3-AA00 UTV low power relay 3 channel combiner, 5x SIRA UTV low power relay 4 channel combiner / splitter (1x band edge filter), EXIR UTV low power relay, CML transmitter system, 50W to 660W - TCE900 exciters & Merlin monitors, Spinner combiner modules, 13x R&S exciter modules, R&S amplifier module, 3x Spinner combiner module, Spinner bandpass filter, Drallim 12457 dehydrator, Spinner filter rack, Qty Spinner, Bird Termaline etc test loads, 250W to 25kW, Spinner 3dB coupler. Spinner 3 way manifolds. Grass Valley / Thomson DVB-T exciters / intermediate power amplifier assembly. L3 inductive output tube constant efficiency amplifier. L3 circuit assembly trolly. L3 input / output cavity, etc.

Qty MCI, Dielectric RF switches, harmonic filters, water loads. Qty NEC drive amplifiers, exciter switch, system controllers, RF & coaxial switches, power amplifiers, relays, antennas, controls, dividers etc.

Qty Spinner spares inc: panic locks, line coupling elements, MCB's, smoke detectors, door hinges & contacts, coaxial loads, EIA couplers, test loads etc, etc.