Qty various tool holder - Lot located at: PP Saler...
This item was sold in one of our on-line Auctions / Sales. We may have similar items available in our forthcoming Auctions, or if you have equipment to sell please contact us for free valuations, advice etc - Tel: 01778 590111 / Email: info@ppauctions.com or please get in touch with us via our contact page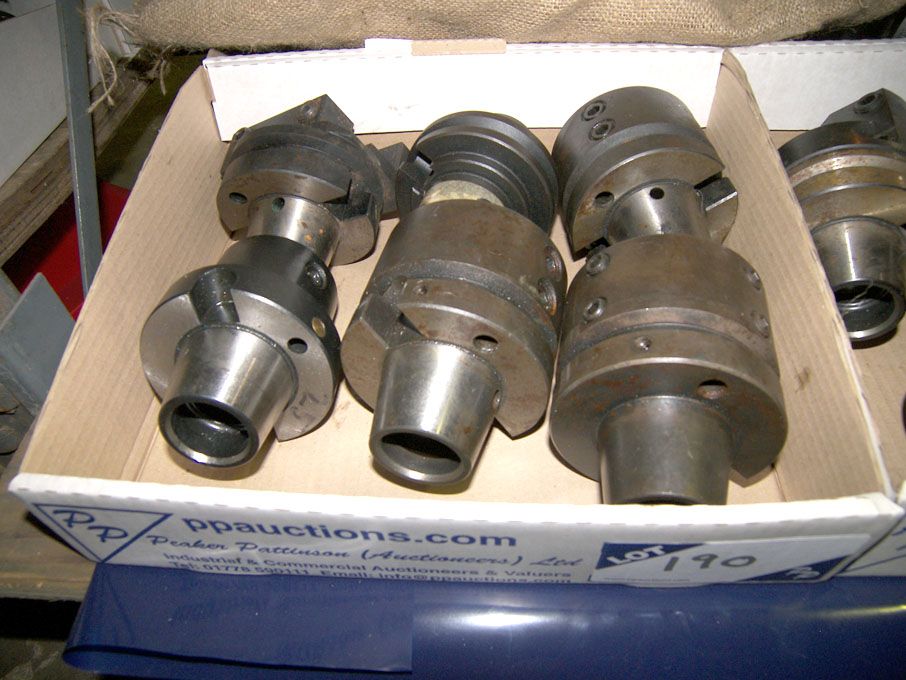 Description
Qty various tool holder - Lot located at: PP Saleroom
Auction - October Collective Sale
PSA Peugeot Citroen, BBC World Service, Aluminium Services & others:

Located at PP Saleroom, Aunby, Lincolnshire
Machine Tools / Inspection
Medding MF4/FS single spindle pillar drill, 350x350mm RF table, 80-4800rpm
Elliott Progress No2G single spindle pillar drill, 330x330mm RF table, 405-2460rpm
Pollard Corona 2 spindle in line drill, 500x350mm RF table
Haegen & Goebel HG6 single spindle bench drill, 500x500mm table, 710-1800rpm
Boxford precision centre lathe, 4 1/2" CH x 30" b.c., 55-2000rpm with tooling
Hardinge lathe dovetail bed
Elliott 921 surface grinder, 520mm Mag chuck, 600mm bed
Herbert No4 chuck polisher, 12" 3 jaw chuck
Union G14 14" double ended grinder, 1500pm
Bridgeport turret mill, vari speed head, power feed, 50-3750rpm, DRO
Butler slotting machine, 600mm rotary table
Herbert T135 vertical hacksaw, 300mm table
Tsibaki Chip Tote D60W12ST-SW swarf conveyor
Qty small tooling inc: machine vices, drills, end mills, slot drills, driven tooling, angle plates, rotary tables, Autolocks, side & face milling cutters, tool holders, collets, chucks etc
Qty tooling for Mori Seiki, Hitachi Seiki CNC's etc inc: QCT50-TA25 tool holders, MRA45 G1-V2 tool slides, Alps Tool NA32, Bristol Tool live tool holders, driven tooling etc
Qty inspection equipment inc: height gauges, micrometers, slip gauges, depth micrometers etc

Woodworking / Sheet Metal / Plastic
Wadkin Modern planer / thicknesser, 310x230mm max cap, 1250x370mm bed, de brake (rebuilt 2000)
Wadkin wood saw, 700x1000mm table with extraction unit
Multico M morticer, 400x200mm bed
Trend modular window system complete with, 20degree splay, Ovelow high performance window system
Norton manual flypress. Edwards 1000mm manual rolls. Starweld 190 welder
Somos Series T/TF mobile granule dryer
GHT 850 oven / drier, 12 shelf, 500x1250x450mm ID, 50-250degC temp range

Lifting / Vehicles
Harold Potter twin pillar single girder gantry system, 250kg swl with Stahl ST1000 electric chain hoist
Qty lifting equipment inc: Slingsby 2000kg lifting frame, 2x IT Hilka chain blocks. Schmazz Vacumaster suction lift, 125kg max. Micro-lift mobile electric platform, 70kgs SWL, 240v built-in battery pack, 600x400mm platform size. mobile engine hoist, platform trolley, 900x500mm platform. 2x manual pallet trucks
Ford Focus C Max, 1.8ltr petrol, 5 speed manual, blue, air con, 116K, 04 reg, MOT 07/13, TAX 10/12

Miscellaneous
2x ABB IRB6400RM99 twin ram 6 axis robots with control panel & pendant, 8.3kva (2002)
William Boulton 800mm stainless steel vibratory bowl (cryogenic use)
1150mm vibratory bowl hydraulic hood on stand
GHD Hofmann EO-RE balancer, 0.5-60kg. EMS Embur 200 ECM machine, 17kva (2002)
Praxiar PF400R arc zinc spray feeder, Tafa control, twin gun, wire feed
Aircosse 4966-40A air compressor on receiver. Nu-Tool HP2 compressor on 50ltr air receiver
Yermani 90.5kva load bank, 3phase, 400Hz, 0.8pf, fan & control
Rapiscan RAP520B baggage x-ray machine, 600x450mm conveyer with Rapiscan controller, monitor
Gwan ULT100-U refrigeration unit, twin compartment, 500x300mm ID
Qty Link 51, Polstore multidrawer cabinets. Qty wooden work benches 700x1600mm
Qty Honeywell electric heaters. ClarkeAir 20" pedestal fans, 240v. Qty AirConeo industrial fans, 240v
Qty Rapid Clima & Titan-Cool portable air conditioning units
Qty Brooke Crompton, Camak etc motors to 7.5kW
Various single / 3 phase cable. Copper / brass & plastic pipe fittings
240v / 110v transformers, power tools. Belfast sink, chrome taps. Lewis Speedfit electric bearing heater, 3000W. Qty SKF, Steya, FAG, RHP etc bearings
Phoenix 1201 combi safe. Canon 1160 photocopier. Rekford plus electric key cutter
Qty Trend frequency converters, door hanging strips, stillages, overalls, brown paper, sanding disks etc

Located at Aluminium Services, Warwick, Warwickshire
Machine Tools / Woodworking
2x Ajax single spindle pillar drill, 1280rpm, 450x530mm RF table
Fobco Star bench drill, 220x220mm table, 475-4260rpm table
Startrite Mercury MKII single spindle bench drill, 350-3830rpm, 220x220mm table.
Avery type C hi-speed bench drill, 1000-10000rpm
2x Vanco flexiband 2B bench type linisher on metal stand
Wickman lapping machine, 6" dia head. Elliot face plate chuck 24"dia. Ward powered spindle, 5" chuck. 3x No1 & No3 fly presses. Gebruner Thiel size 2 die filer & sawing machine
Cincinnati 270MK mk2 horizontal production milling machine with vertical head
Simplon universal vertical milling machine, 1400x300mm table, to 3500rpm & Qty of tooling
3x Herbert - Cridan type b hi-speed threading machine, hyd tail stock, automatic chuck
Herbert - Cridan type b threading machine, manual tail stock
Herbert 2D capstan lathe, hydraulic collet holder, 2x 3 jaw chuck
Herbert 2D capstan lathe, 3 jaw chuck & 2x face plates
Keighley model makers lathe, no tail stock
Richmond slotter, 400x300mm table. Hoborough shaper, hydraulic 24" stroke
Mirage FDM Industries aluminium cut-off saw, 2800rpm with roller feed (2004)
Wadkin wood drill, 2800rpm. Oliver disc sander & Bobbin, 30" disc
Qty small tooling inc: end mills, slot drills, milling cutters, hydraulic copy attachment, twist drills, multihead drills, collets, chuck jaws, chucks, mag tables, tool holders, face plates etc
CI surface table 48x36"

Miscellaneous
Ajax Magnethermic induction furnace, water cooled, 600kva, 300kg/hr (aluminium)
Alocrom / Paint plant, 35x12m approx foot print, 1050x450 aperture, complete with Alocrom water treatment / water softener, wash & drying, 1x auto & 1x manual spray booth & extraction, 6 paint pots, Ransburg units & guns, 1x single, 1x double, 1x manual, 3x auto, coating / dry off oven
Qty Crodalux & Drynamels power coating (clear gloss / black / grey etc)
LEC industrial freezer, - 40degC, 640x480x480mm ID
Cambridge salt spray cabinet, 660x400x350mm internal dims
E.D.L 20/15L/S shrink wrapping machine, 600mm wide reel
Qty various ceramic pots, 15" to 31" dia
Autolift 1 tonne, 24" centres, 12v electric pedestrian lift truck & 240v charger
Qty Sperry Vickers etc 3 phase hydraulic power packs
Broom & Wade air receiver
Gorton 1420rpm 3kW electric motor & Motorario gearbox, etc.