Kramer VM-20HDXL dual 1:10 HD/SD-SDi distribution...
This item was sold in one of our on-line Auctions / Sales. We may have similar items available in our forthcoming Auctions, or if you have equipment to sell please contact us for free valuations, advice etc - Tel: 01778 590111 / Email: info@ppauctions.com or please get in touch with us via our contact page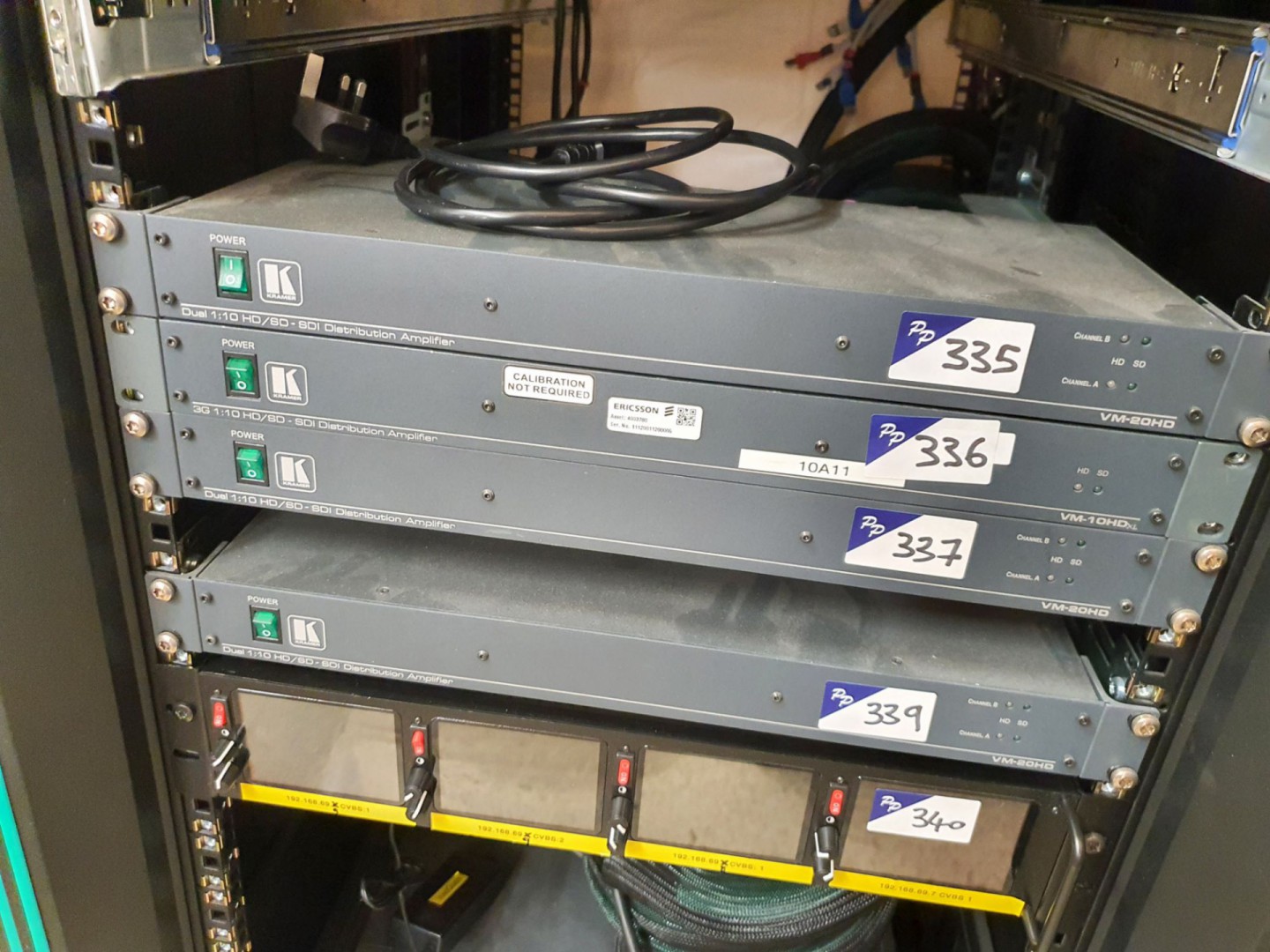 Description
Kramer VM-20HDXL dual 1:10 HD/SD-SDi distribution amp
Auction - MediaKind Systems UK Ltd - Phase 2
OVER 350 LOTS - TECHNICAL / ELECTRONIC TEST / OFFICE:
2x TV Logic LVM-243W multi format LCD monitors
JVC DT-V24L1D multi format LCD monitor
4x Panasonic BT-51015DA monitors
Snell & Wilcox digital test pattern generators
Appear TV SC2100 TV signal analyser
Thurlby PL320 power supply
Agilent 6813B AC power source / analyser
HP 53131A universal counter
TTi CPX400S DC power supply
Tektronix VM700A video measurement set
Qty various Tandberg receivers, Ericsson RX8200 / RX8305 / RX8310 / RX8330 receivers, DVB-T modulators, video processor, stream processors, AVP4000 encoders, multiplexers etc
Tandberg TT4010 portable transport stream monitor
Qty various HP, Toshiba, Cisco, Nortel, Mitel, Netgear, Brocade, Foundry etc switches, fibre panels, laptops, servers, access points etc
Qty One4Power 14 way MDU's
Marshall V-R171X-DLW LCD monitors
Nevion SL-64XY-CP control panel
Network SL-SD1602-R-CP control panel
Anchor AN-1000X speaker
Fujinon TH16x5.5BRMU lens
Qty various Redbyte, AJA, Decimator etc convertors, HD / SDi to DVI-D embedder / disembedder, sync generators, stereo headphone amplifiers etc
Qty various Tandberg, Ericsson plug in cards inc: HD transcoder, Viper sync input card, encoder cards, BPS interface option board, accelerator boards, MPM3 cards etc
4x Nvidia Tesla K10 graphics accelerators
Panasonic AJ-HD2700 digital HD video cassette recorder
Pixelmetrix DV station
Qty various Leitch, Harris Panacea 8x8, 16x16 router panels
2x Harris Platinum router chassis with plug in cards
3x Xcel-Fi 4G extenders
2x JVC TM-1450 PN-A CRT studio monitor
2x Panasonic PT-FW430EA HD projectors
KanDao Obsidian R 8K 360 camera in case
KanDao Obsidian S 6K 360 camera in case
Pioneer V5X-AX4ASi audio / video multi channel receiver
2x Christie DWU951 projectors.
Qty Vutrix, Broadcast Technology, Kroma Telecom rack type multi screen monitors
Symmericon sync server S200 network time server
Temex Epsilon amplifier system
Senscore MRD5800 advanced modulator receiver
Spectracom EC205 clock
Dolby DP564 multi channel audio decoder
Bel digital audio AV2 monitor
Qty IBM Aten etc rack type keyboard / monitors
TSL PAM1-3G audio monitor
Kramer VM-20HD, VM-10HD SDI distribution amplifiers
Qty various HP, Hatfield etc directional couplers, attenuators, BNC connectors, antenna amplifiers etc
4x NEC 2690 WUXi Multisync LCD monitors
Ilyama Prolite TF6538UHSC interactive 4k display with custom table in mobile black transit case, 1900x1200x1200mm
Sim 2 multi media 47" LCD monitor in black transit case, 1220x900x250mm
Cisco Catalyst 4510R+E frame inc: 8x WS-X4748-RJ45V+E POE switches in wooden crate (2015)
4x NEC MultiSync PCTU4020 LCD monitor
Black mobile transit case inc: Sony KDL 32W4000 LCD digital TV, Sony KDL 32W5500 LCD digital TV, 4x Sony KDL 26V4000 LCD digital TV's, 1200x930x800mm
Black mobile transit case inc: 2x Sony KDL 40EX713 LCD digital TV, 1250x780x930mm
Black mobile transit case inc: 4x Samsung UE40ES8000U LCD digital TV's, 6x various monitors, 1200x850x830mm
Black mobile transit case inc: 6x Samsung UE40ES8000U LCD digital TV's, 1280x790x730mm
Black mobile transit case inc: 6x Sony KDL26V4000 LCD digital TV's, 1280x800x770mm
Black mobile transit case inc: 3x Sony Bravia KDL-40LX903 LCD digital TV's, 1280x880x960mm
Black mobile transit case inc: 2x Sony KDL-46X4500 LCD digital TV's, 1420x800x960mm
Beech folding pedestal lectern (boxed & unused)
2x OFFECCT Black upholstered 3 seater sofa with multi coloured cushions, 1800mm long
3x Kartell Design red plastic light shades
Armitage Shanks mixer taps
Dyson Airblade hand dryers
Hyco wall mounted hair dryers
Shower stools, Chrome barrier system etc, etc.