Bridgeport boring tool in wooden box
This item was sold in one of our on-line Auctions / Sales. We may have similar items available in our forthcoming Auctions, or if you have equipment to sell please contact us for free valuations, advice etc - Tel: 01778 590111 / Email: info@ppauctions.com or please get in touch with us via our contact page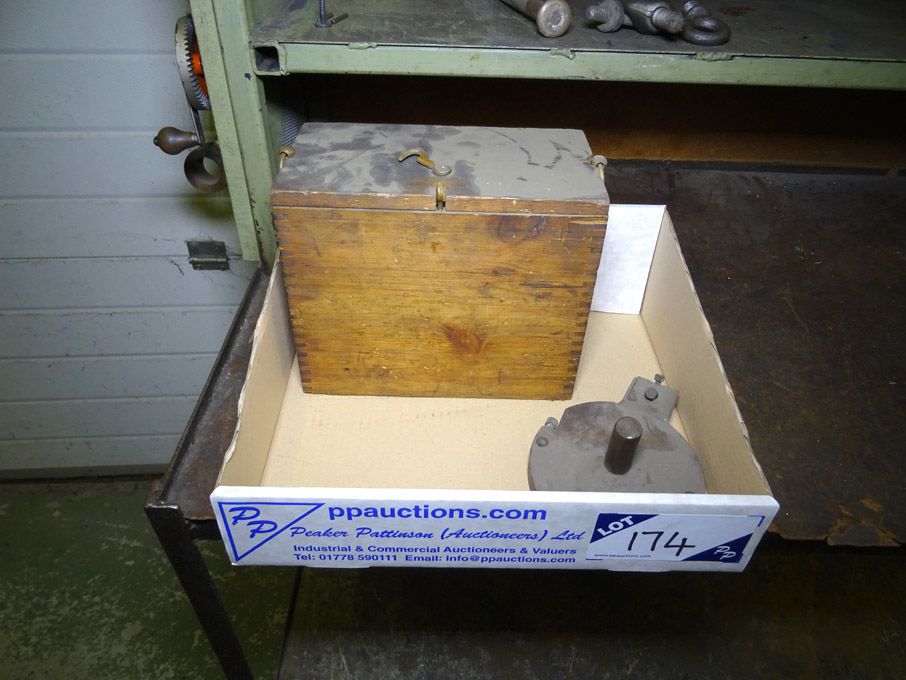 Description
Bridgeport boring tool in wooden box
Auction - Dimension Four
Machine Tools
Arboga Maskiner M825 drill / mill, 560x240mm table, 110-3074rpm with equipment
Stanko Import 3171 surface grinder, 24x8" capacity, 18x6" mag chuck
Clarkson Mark II tool & cutter grinder, 13x4" table, 12x6" capacity with equipment
Cincinnati No2 tool & cutter grinder, 39x5" table, variable speed with Spenstead dust extraction, workhead, radius grinding attachment & equipment
Gryphon 4" bench linisher. 240v double ended bench grinder
XYZ PRO1500 CNC turret mill, Proto Trak AGE 2 control, 60-4200rpm, 42x9" table, interlocked table guarding, twin work lights (1998)
Bridgeport turret mill, 42x9" table, 50-3750rpm, variable speed head, powerfeed
Speedax 20" vertical bandsaw, 1100rpm, 18" throat, 24x24" table
DeWalt BS/1310 vertical bandsaw, 15x15" table, 12" throat, 240v
McMaster (Ireland) 6" horizontal power hacksaw, 14" blade with roller stand & stop
TOS SN40B gap bed toolroom lathe, 200mm CH x 2000mm b.c., 22.4-2000rpm with equipment & tooling
Edgwick gap bed toolroom lathe, retrofitted with varispeed motor, 15-1500rpm, 7.5" CH x 40" b.c. with equipment & original motor
Taboni Meccanica (Funditor) Tabre 160E (100-103) insizer & marking machine with 600mm dia 'T' slotted table, 600mm linear ruler & equipment

Small Tooling / Inspection
Qty small tooling inc: sine tables, dividing heads, vices, chucks, drills, mills, taps, tips, reamers, side & face milling cutter etc
Qty Posibore tooling & equipment
Qty inspection inc: height gauges, micrometers, calipers etc
Webster Bennett 72x30" CI marking out table

Sheet Metal / Welding
Norton No5 & Similar No2 bench type flypress
Kemppi RA350 mig welder with FU20 wire feed unit
Miller Syncrowave 300 AC / DC tig welder
Welding Controls 300 Amp AC / DC inert ARC welder
Portable 140A ARC welder
Welding trolley with gauges, hoses & torch
Welding rod oven & welding bench
Qty welding rods, screens, masks, clamps etc
Qty bar stock inc: mild steel, aluminium etc

Factory Plant / Miscellaneous
Nu-Air twin cylinder air compressor, 11 bar (1991)
Workzone 2.5HP air compressor, 240v, 8 bar (boxed)
Lansing FOEP1.11.15FFL 3 wheel electric pedestrian forklift truck, refitted with 110A leisure batteries, 240v charger
Guyson DBH6 S8 manual bead blast cabinet, 42x30" int dim
Qty various trolleys, tote pans, workbenches, manual lift truck, bander, pneumatic tools, office furniture, drawing board, buzz bar etc.