Tranemo B7E-2000-1 2000kN hydraulic press, 1900x10...
This item was sold in one of our on-line Auctions / Sales. We may have similar items available in our forthcoming Auctions, or if you have equipment to sell please contact us for free valuations, advice etc - Tel: 01778 590111 / Email: info@ppauctions.com or please get in touch with us via our contact page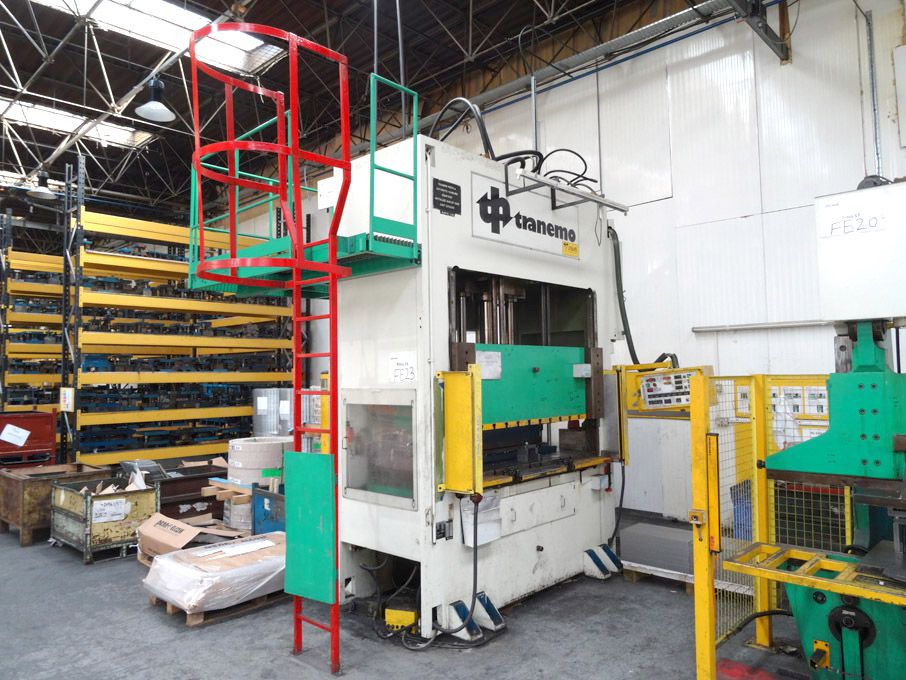 Description
Tranemo B7E-2000-1 2000kN hydraulic press, 1900x1000mm bed, 100ms, Sick light guards front & LC Automation light guards rear, hydraulic clamping, tool load / unload station, air cushions, double action (bed pin ejection), dampeners, 4x2m footprint x 4m high (approx), 16,000kg weight, s/n 83-16 (1983) - Lot located at: Washington, Tyne & Wear
N.B. 800mm max open height. 300mm max shut height. 500mm stroke. Press available with operating manual, electrical & hydraulic drawings. 
Auction - Penn Elcom Ltd
TRUMPF TruPunch 3000 S11 CNC punching machine with SheetMaster Compact loader / unloader, 2500x1250mm working range, Linear magazine with 18 tool stations & 2 clamps, servo electrical punching head, Bosch MTX CMP 70 control, sheet collision detection, multi-beam light barriers (2013)
Arburg Allrounder 320K 700-250 plastic injection moulding machine with hopper, 700kN clamping force, Selogica control, 250mm open stroke, injection unit s/n 193436 (2004)
Arburg Allrounder 221K 350-100 horizontal plastic injection moulding machine with hopper & vertical moulding attachment, 350kN clamping force, Selogica control, s/n 191882 (2003)
Negri Bossi NB-190 SM720 injection moulder, 190ton capacity, Dimicolor 100 control, Jenco HD50T dryer / hopper, s/n 38-848 (1990)
Colly 2010 hydraulic Pressbrake, 200ton capacity, 3000mm long bed, 220kg/cm2 max operating pressure, 250mm stroke, Smartscan light guards, s/n 660
Tranemo B7E-2000-1 2000kN hydraulic press, 1900x1000mm bed, 100ms, Sick light guards front & LC Automation light guards rear, hydraulic clamping, tool load / unload station, air cushions, double action (bed pin ejection), 4x2m footprint x 4m high (approx), 16,000kg weight, s/n 83-16 (1983)
Off-line paint booth with cyclone extraction unit, 2100x1570mm aperture, 2150x1500x2200mm approx overall dimension
280 approx Tretford 500x500mm orange / brown floor tiles