Clarkeweld 270TE welder, 260A
This item was sold in one of our on-line Auctions / Sales. We may have similar items available in our forthcoming Auctions, or if you have equipment to sell please contact us for free valuations, advice etc - Tel: 01778 590111 / Email: info@ppauctions.com or please get in touch with us via our contact page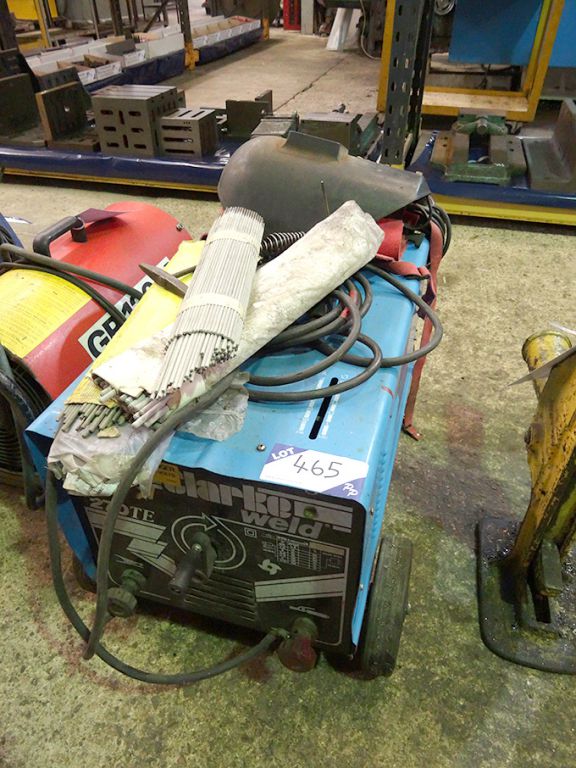 Description
Clarkeweld 270TE welder, 260A
Auction - Lahoma Engineers Limited
CNC
CME FS-2 CNC bed mill, Hedenhain CNC control, 2100x850mm bed, 5000hrs run time, s/n 361 (2006) - Sub table available separately
CME FS-2 CNC bed mill, Heidenhain CNC control, 2100x850mm bed with sub table, 15900hrs run time, s/n 077 (2002) - Sub table available separately
Correa CF/22 CNC bed mill, 2000x700mm bed, Heidenhain CNC control, coolant, 3300hrs run time, s/n 9670107 (1996)
Haas VF-2 CNC vertical machining centre, 920x350mm table, Haas CNC control, 20 tool ATC, Haas 4th axis, s/n 5848 (1995)
Daewoo Puma 400LB CNC turning centre, Fanuc Series 18i-TB CNC control, tailstock, 10 tool turret, 500mm dia chuck, s/n P35L1460 (2003)
Colchester Tornado 300 CNC turning centre, tail stock, 12 tool turret, GE Fanuc series O-T CNC control, 3000rpm, s/n C30195 (1996)

Crankshaft Grinding Equipment
AMC Schou K2000-U crankshaft re-grinder, 2000mm between centres, 800mm dia wheel, coolant, s/n 24035 (2010)
AMC K1500-U crankshaft re-grinder, 1500mm b.c., 600mm dia wheel, coolant

Specialist Engine Equipment
Newall 'L' plan cyclindrical grinder with 16" dia wheel - Modified camshaft grinder with Mastercam including Ferrari, BRM, Autounion, Lotus, Maserati, Alfa, Delahay etc
BSA Churchill planetary grinder, 40x24" table, Matrix Multi disc clutch, 2-12rpm planetary speeds, Sony DRO
Churchill planetary grinder, 80x16" table, belt drive
Mollart 6000 Series deep hole gun drill, 7/8" x 1m capacity, swarf conveyor, coolant, Orbit control
Delapena 276/P 'Autostroker' beam stroker. Manual Camshaft tester on stand.

Machine Tools
Drilling / Boring / Honing / Tapping
Myford KF-VM-C drilling / milling machine, 24x6" table, belt head, s/n 7604B
Milnes horizontal fine borer, 48x20" bed, 40-750rpm, Anilam Microwizard 2 axis DRO
Delapena single head honing machine.
Desoutter articulated pneumatic tapping machine on 1150x750mm metal workbench, 240-750rpm

Grinding
ELB Schliff SW6VAI surface grinder, 560x300mm mag chuck, coolant, s/n 52710565
Keighley cylindrical grinder, 6" CHx36" b.c., 40-200 rpm spindle speeds, coolant
Universal grinder with swivel head, internal, 6" CH x 30" b.c.,
Brierley ZB32 drill grinder on base, 32mm capacity
Clarkson 12x6" capacity tool & cutter grinder, s/n9032
Wolf TG8HJ 8" double ended grinder on base

Milling
Kondia Powermill FV-300 turret mill, 1470x280mm table, powerfeed, 60-4000rpm, Mitutoyo 2 axis DRO, s/n R-784
Herbert Devlieg Spiramatic 2B-36 horizontal Jigmill, 36x24" table, 50-2400rpm spindle speed, Mitutoyo 3 axis DRO with equipment

Turning / Sawing
2x Herbert 9C/30 capstan lathe, 6 tool turret, 7-600rpm, Anilam Wizard Lathe Series DRO
Herbert 9C-30 Comb capstan lathe, 6 tool turret, 7-600rpm, Newall DP700 DRO
Herbert 14/36 capstan lathe, 6 tool turret, 4-480rpm, 800mm dia 4 jaw chuck, Newall DP700 DRO
Colchester Triumph 2000 gap bed lathe, 7.5"CH x 50"b.c., 25-2000rpm, Newall Digipac II DRO,
s/n 6/0044/29624
Ward 2DS capstan lathe, 6 head turret, 60-2040rpm
20" horizontal bandsaw with 12" vice

Small Tooling
Qty small tooling inc: drills, end mills, slot drills, taps, reamers, tip turning tools, Helicoil equipment, collets, tips, boring heads, clamping sets, machine vices, tool holders etc
Bristol Erickson tool pre setting fixture.

Inspection / Laboratory / NDT
IHE Esab Magnatox 167/1 crack detection unit in enclosure (overhaul 2012)
Airmatic X1000PW powered indexing rotary table for LK CMM.
LK MiniCheck 750mm digital height gauge with LK MiniMicro readout / printer
1200x900mm granite surface table. WBJ 72x48" grade A granite surface table
Wilson Rockwell 4JRRB hardness tester on stand. FEL Electric D106 demagnetiser.
Avery Berkel HL122 digital platform scales, 600x450mm platform, 150kg x 0.02kg capacity.
Qty inspection equipment inc: height gauges, micrometers, Vee blocks, slip gauges, surface testers, bore gauges, CI angle plates, CI cubes

Lifting / Vehicles
Daewoo D30S-2 diesel forklift truck, 3 ton capacity, triple stage mast, 4730mm max lift height, side shift, 5358hrs (1996)
Ian Harrison floor mounted swing jib, 750kg SWL, 14ft span, Star Liftket 750kg electric chain hoist, pendant control
Morris floor mounted swing jib, 250kg SWL, 10ft span with Morris electric chain hoist, pendant control
2000kg SWL floor mounted swing jib, 16ft span with King 2000kg electric chain hoist, pendant control
250kg SWL floor mounted swing jib, 9ft span with 250kg electric chain hoist, pendant control
250kg SWL floor mounted swing jib, 10ft span with 250kg electric chain hoist, pendant control
Python girder mounted swing jib, 250kg SWL, 14ft span, Morris 2 ton electric chain hoist, pendant control
Yale girder mounted swing jib, 250kg SWL, 10ft span, Demag 250kg electric chain hoist, pendant control
2x girder mounted swing jibs, 250kg SWL, 14ft & 16ft spans, Demag electric chain hoist, pendant control
250kg SWL girder mounted swing jib, 12ft span, Demag 250kg electric chain hoist, pendant control
250kg girder mounted swing jib, 9ft span, electric chain hoist, pendant control
Brit 2000kg manual pallet truck. Promac 2500kg manual pallet truck
Ford Transit 110T280 diesel transit van, short wheel base, grey / silver, 5 speed manual gearbox, 70,400 miles (warranted), Tax & MOT 03/14, 08reg

Miscellaneous
Air Industrial Equipment HO85 compressor on 272ltr capacity air receiver, 11bar, s/m 54304/020 with
Atlas Copco FD16 dryer (2010)
Weber Sams 10,000Psi hydraulic garage press, 770mm between columns, adjustable height
Safety Kleen parts washer, 870x580x250mm ID.
ArcoTherm GP120M gas factory space heater
ClarkeWeld 270TE mig welder, 260A.
Qty various Polstore cabinets, racking, office furniture, storage cupboards, hand tools, power tools, torque wrenches etc