Telequipment D1011 dual trace oscilloscope
This item was sold in one of our on-line Auctions / Sales. We may have similar items available in our forthcoming Auctions, or if you have equipment to sell please contact us for free valuations, advice etc - Tel: 01778 590111 / Email: info@ppauctions.com or please get in touch with us via our contact page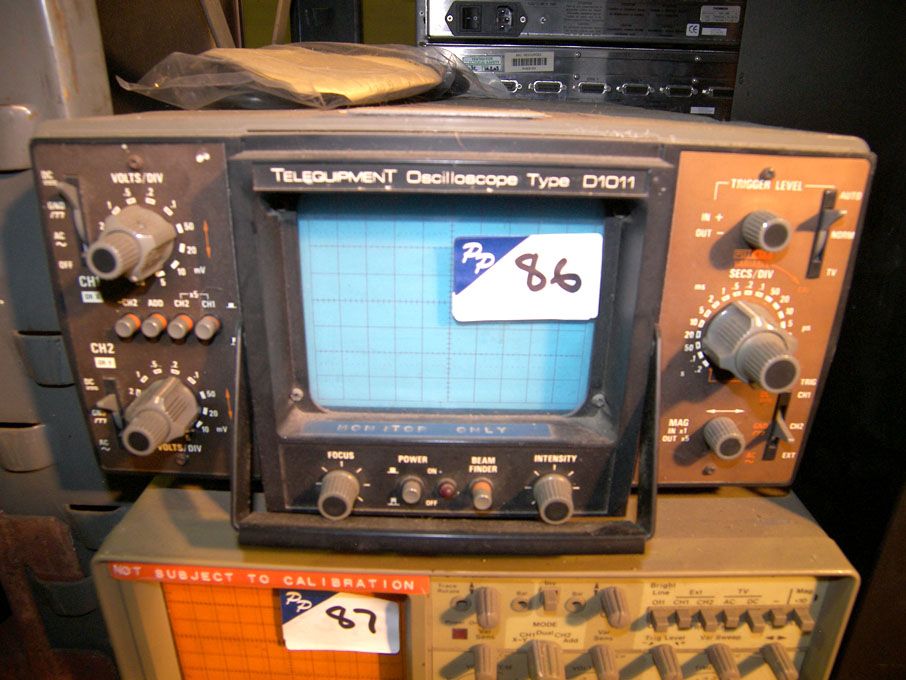 Description
Telequipment D1011 dual trace oscilloscope
Auction - May Collective Sale
Goodrich, AgustaWestland & others:-

Machine Tools / Small Tooling:
Herbert Devlieg 2B-36 Spiramatic Jigmil boring & milling machine, 2x Jones & Shipman 540L & 540P surface grinders, Praga 451P surface grinder, Gioria RU/P1500 external grinder, Powa Lastik B cut-off machine, Meddings 3 spindle drill, Marlco lever press, Qty small tooling inc: drills, reamers, chucks, tool holders, end mills, slot drills, angle plates, face plates, etc.

Laboratory / Inspection / Metrology:
Qty Wild Barfield / Townson & Mercer / SW Statim ovens, 2x WorkPoint etc air benches, Astec BFC20-001 bench top filter unit (1996), 2x Magnaflux crack detection / flaw detection units, Qty Thermal Control / Schott etc microscopes / light sources etc, LK Mini Check height gauge, 7x Testbourne SuperVac grade chromium-silicon monoxide sputterer / sputtering targets (to 2008), Sony CAST-CR1 bench type router, Cupe 0706 & Cupe 2500 rate tables, W. Scherrer M150 bearing shear tester, MicroAir Hiac Royco 5230 particle counter, Essemtec reflow system, Qty inspection equipment inc: vernier calipers, height gauges, micrometers, slip gauges, depth micrometers, Sigma comparators, CI surface tables & surface plates, etc.

Sheet Metal / Welding:
Walton BPFM40/16 box & pan folder, Edwards 36" manual rolls, Neco 10" b.c. powered manipulator, Ridgid 535-2B powered pipe threader, Schmalz Vacumaster Basic plate lifter, Schlatter P2.142.43.32 spot welder (1993), Weldrite 150 mig welder, Kempi mig welder, Tecnoweld PluriTig1.310 tig welder, Oxford RT110B welder, Qty various welding torches, blacksmith hearth, Norfolk B & Hilmor universal pipe benders, Worth CNC turret punch imperial / metric tooling etc.

Woodworking Machinery / Sundry Equipment:
Holztech Compact 18 4 head planer (2004), SCM S1320 3M sliding bed panel saw (1999), Wadkin Modern planer / thicknesser (rebuilt 2000), Griggio T100 MY1 heavy duty spindle moulder, Sedgwick 3 head tenoner, Wadkin MG1048 morticer, SCM sliding table (2010), Trend modular window system, Qty Makita, Cosmo, Elu, Prebena, Record etc 110v screw drivers, pneumatic nails guns, trimmers, vices, hammers, wood stock, drill & plug cutters etc, Qty extraction units, dovetail jig, dado cutters, serrated spindle blocks, grooving blocks, bearing followers, jointing & beading cutters etc.

Factory / Mobile Plant:
Europower EPS5500DE 5kva super silenced diesel generator (2008), Lister Petter 15kva diesel generator on trailer, Atlas Copco LT6S 'V' compressor on receiver (1994), Ehrle Etronic diesel steam cleaner, Freddy 1EB & IPC Cleantime CLT60B50 floor sweepers, 3x Nilfisk CA340 / SD4 / GU450A floor sweepers / hoovers, Kone XL200 electric 2 ton crane, Clarke & Airpop parts cleaner, Nordiko container gas removal system with MC380 galvanised fan, GEC Miniform switchgear panel with 400A & 5x 100A switches, 2x Sentri lockable equipment storage boxes, Qty Demag etc electric chain hoists / manual chain hoists / shackles / plate lifters / block & tackle etc, 2x Atlas Copco Tensor DS9 controller / 9x torque wrench handles & 2x cables, BT Rolatruc RT2000T electric reach truck, Key Industrial CTC254 mobile engine hoist, GS L9 crane type pallet lifter (1992), 3x Camlock etc plate lifters (to 2006), etc.

Miscellaneous:
7x5m grey metal self-contained partition office (dismantled), 1.2m dia rotary bowl hood with lifting mechanism, Qty metal stackable stillages / wire mesh stillages / motors / gearboxes / overalls / brown paper / buckets / sanding disks etc, Qty Polstore etc multidrawer storage cabinets, Kodak Recordak Reliant 750 microfilmer, Moore 4100 pressure sealer, ASA B series metal block calibrator, VTech SMT977/8 vacuum system, AMS micro stand, Stuart magnetic stirrer, Telemax & Hanna H18757, etc.

Broadcasting / Electronic Test Equipment:
4 channel PPM44ALS sound reader, 3x Advantech Industrial 610 BNCS computers, Tandberg TT6010 TS processor, 3x Divicom Harmonic MUX, Qty Polistream P5000 / P4000 / A4001 screen subtitling systems, 5x Snell & Wilcox IQ modular chassis with cards, 9x Thomson DBS 2908 & DBS 2911 controllers, 2x Thomson SNA 4600 network adaptor with cards, Sony editing control unit with controller, Qty electronic test equipment inc: Solartron, HP, Tektronix, Wayne Kerr, Racal Dana, Coutant, MSS etc system voltmeters, vibration controllers, power supplies, chart recorders, oscilloscopes, etc.