Qty various Porcupine concrete retaining blocks, 2...
This item was sold in one of our on-line Auctions / Sales. We may have similar items available in our forthcoming Auctions, or if you have equipment to sell please contact us for free valuations, advice etc - Tel: 01778 590111 / Email: info@ppauctions.com or please get in touch with us via our contact page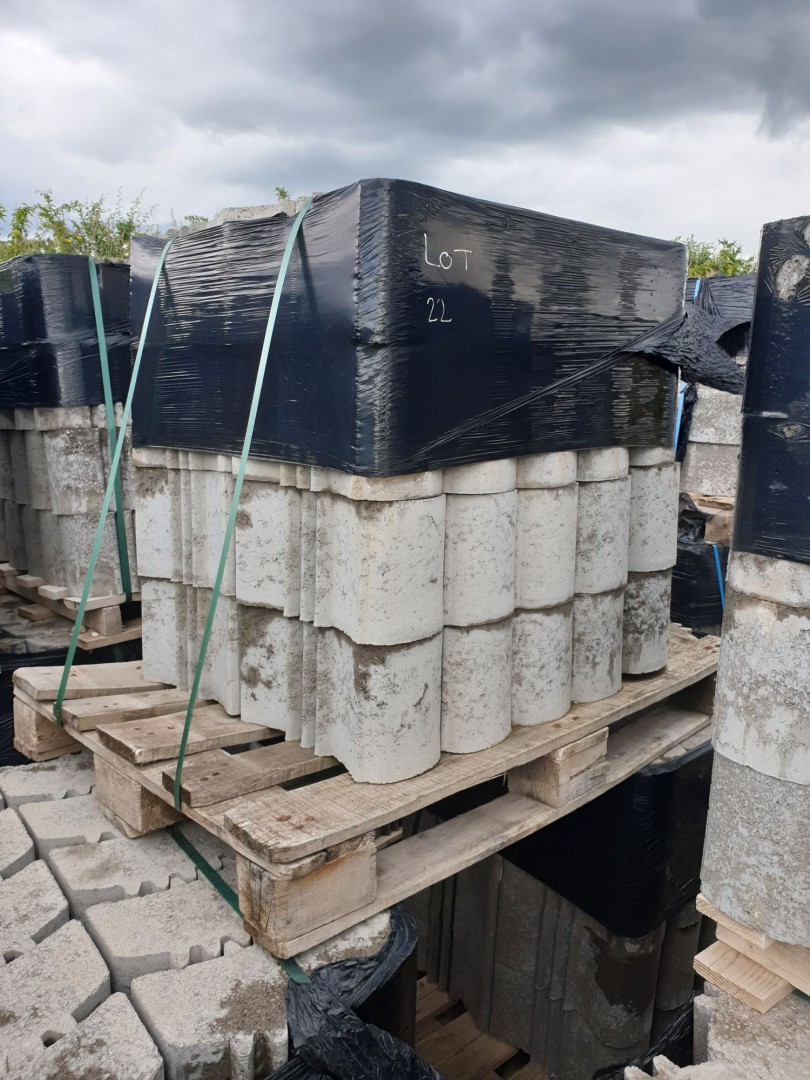 Description
Qty various Porcupine concrete retaining blocks, 200x300x150mm approx on 3 pallets
Auction - National Highways
Over 150 lots of surplus equipment available due to completion of the M27 Junction 4 to 11 Smart Motorway Programme including:-

Qty Fowler & Holden Fastflow D400 metal CKD drainage channels to 500x400x230mm
5x FPM McCann steel / concrete infill lids for 1250mm wide trough (2019)
3x 2520x650mm approx composite drainage channels on pallet
Qty various yellow composite drainage channels, angle posts etc
2x Flamgard stainless steel electronic automatic ducting vents, 1400x1000mm on pallet (2020)
48x 300x300mm rubber pads
Qty various black 100mm wide edging strips / filter on pallet
Large Qty various PAM Warrior MFB40, Wrekin, Inter-AX, steel drain covers, ducting etc
4x Stanton Bonna D400 concrete Aqua slots, 2500x500mm approx (2019)
Qty various Marshall 'Half Battered' concrete kerbs, 915x125x150mm approx
Qty various Porcupine concrete retaining blocks, 200x300x150mm approx
Qty various Marshall Beany Mono concrete drainage kerbs, 1000mm approx wide
Qty Marshall Beany Mono 45deg Splayed 321 concrete drainage kerbs, 1000mm approx wide
Qty Marshall Beany Mono metal drainage kerbs on 2 pallets
Qty PDS Envirodeck composite drainage kerbs on 2 pallets
25x Marshall concrete flat top edging, 50x150x914mm approx
Qty various concrete drain ducts etc
200+ Liniar LSP 400Y standard pile grey 1.4m high shutters
Qty wooden plant / bog mats, 6000mm approx long
1800+ Melba Swintex 'Wonder Wall' yellow & red freestanding safety barriers with feet, 1000mm wide approx
Qty Polypipe RG450750 plastic rigid gullies
900+ rubber interlocking red & white barrier blocks, 1000x300x270mm approx
75 approx various size steel plates to 3700x1250x25mm approx
Qty steel soundproof panels, 2950x500mm approx
18x concrete lintels / blocks, 2450x250x90mm approx
280+ HW Martin / Apollo etc blue & red road cones on pallet
2x insulated plastic IBC's, 5x plastic IBC's
Qty various galvanised steel channels / RSJ's in stillage, 6000mm approx long
90+ Herras galvanised metal fencing panels, 3400x2000mm approx with feet
80x black rubber Heras fencing feet
22x white plastic safety barriers with feet, 2100x1000mm
SJ-500 black & yellow oil drum drip tray, 1500x1500x1000mm approx
8x yellow plastic grit bins, 800x700x500mm approx
Qty yellow & black track speed bumps
Qty site extending cable poles with Qty Metro block bases
Qty various Polypipe double socket couplers, rigid drain bends, joins, elbows, gullies etc to 1100mm dia
Qty various Flexi Seals in 3 stillages inc: SC200, IC225, LC760W, SC410, SC410W, SC600 etc
35x Polypipe 600mm rigid drain double socket couplers (2019)
Large Qty various Polypipe perforated drainage ducting to 750mm approx dia
20x Polypipe 600mm dia perforated drainage ducting, 6 with coupler on one end
Qty various flexi perforate pipe, 80mm approx dia
36x Polypipe perforated drain pipe, 300mm dia x 6000mm approx
Large Qty brown composite retaining barrier / fencing, 1000x3000mm approx
12x wooden sleepers in stillage, 2800mm approx long
9x treated rough sawn wooden posts, 170x140x4200mm approx
Qty various Marshall Mells, FP McCann 1500x0.75m, 1500x0.5m & 1800x0.75m concrete drainage ring with steps
Qty various size Marshall Mells, FP McCann concrete drainage biscuits / ring lids, concrete riser blocks
Qty various Avalon, Wonder Wall, JSP red / blue freestanding safety barriers
Qty various orange & purple ducting, 100mm, 60mm dia
Qty PAM Warrior metal services covers
24 packs (16 per pack) Marshall 125x150mm bull nose concrete kerbs
20x Marshall 900x600x50mm natural concrete paving slabs on pallet
6 packs (20 per pack) Marshall 900x300x50mm natural concrete paving slabs
Qty various red safety barriers
Qty various length ducting to 150mm dia approx
Qty JFC Corripipe 94TC underground ducting
ConQuip SS-600AG site boot cleaning station (2020) etc.