3x Tandberg video processor, EN8090 encoder
This item was sold in one of our on-line Auctions / Sales. We may have similar items available in our forthcoming Auctions, or if you have equipment to sell please contact us for free valuations, advice etc - Tel: 01778 590111 / Email: info@ppauctions.com or please get in touch with us via our contact page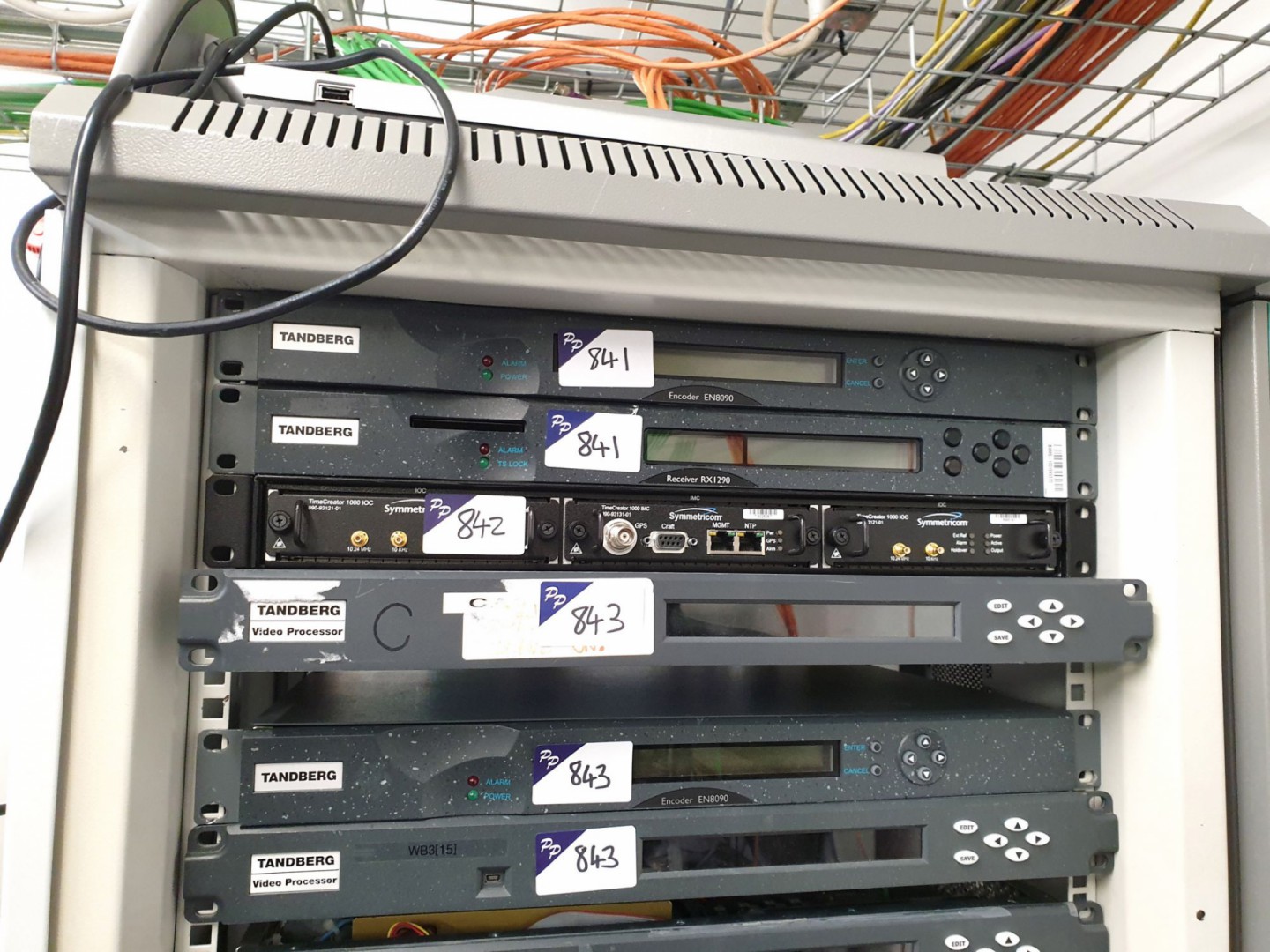 Description
3x Tandberg video processor, EN8090 encoder
Auction - MediaKind Systems UK Ltd
Over 1600 lots of high quality Broadcast / Electronic / LAB / Office / IT / Kitchen / Canteen / Site Equipment inc:

TECHNICAL / ELECTRONIC TEST
Ericsson AVP-1000 network adaptors. Ericsson RX-8200 receivers
Wohler AMP2-16V series monitor. Soniflex Redbox RB-SS10 analog source select
HP Proliant DL360 G7/G8 rack type servers. Soniflex RM4C8 dual select reference monitor
HP Proliant DL160 Gen 8 servers. Ericsson EN-8190 HD H264 encoder
Qty various patch panels. Vistek V1606 modular chassis
Dolby DP569 digital audio encoder. Evertz HD9084 HDTV caption encoder
Tandberg video processor. Dolby DP568 professional reference decoder
Panorama Adtv VAMP-1 analog monitor panel. Tandberg MA5400 IP gateway
Tandberg RX8200 advanced modular receiver. Tandberg RX1290 receiver
Tandberg TT6120 TS processor. Tandberg TT1222 receiver
Dolby DP571 Dolby E encoder. Tandberg E5710 encoder
Tektronix VM700T video measurement set. Fluke 54100 video signal generator
Sysmedia 1033 teletext calibrated distortion unit. Evertz 8085 DTV caption encoder
Vistek V1601 modular system chassis. HP 2510-48 network switches
Ericsson AVP-2. Qty various Cannon server racks. Harris FR6822+ frames.
Ericsson MX8400 multiplexer. Dell PowerEdge rack type servers
Tandberg 1230 receivers. Sony SRW5000 HD digital video cassette recorder
Tandberg MX8400 multiplexer. TSL AMU1-BA monitoring unit. Panorama MON4-2W/HR monitoring unit. Panorama Adtv RM-2443-HD monitoring unit. Ericsson SPR-2000 stream processor
K-tech telecom DVM-150E professional DTV receiver / decoder
Brocade FWS624G network switches. Harris Panacea P-16X16 HS router
Harris Panacea P-16X16 AES router. Harris Panacea P-16X16 routers SDi / HD.
One 4 Power MDU-14 14 way MDU's.
Qty various HP, Dell, Super Micro rack type servers, base stations etc
Envivio 4 Caster C4 Gen III live multi screen video encoder / transcoder
Qty ICL, RKP 117 rack type monitor / keyboards. Snell & Wilcox Kudos programmable digital test pattern generator. Canford dual rack monitor. Palcom SL-7700RP satellite receivers
True Time GPS time & frequency receiver. Rapco 1866A frequency distribution unit
Dolby DP564 multi channel audio decoder. Yokogawa VT1300 RS monitoring station
Dell Precision 7810 tower PC's. Tandberg EQ8096 Edge Qam. Tandberg EQ6800 Edge Qam
Newte CY 2077 DVB satellite modulator. Wohler AMP-1A LP analog audio monitoring panel
Studer D19 series multi dac. Lindos LA101 audio oscillator
Leitch digital processing synchroniser. Tandberg TT4030 multi-channel transport stream monitor
Tektronix TPG20 digital test pattern generator.
Rohde & Schwarz DVM 400 digital video measurement system
Miranda Densite 3 chassis. Promax Prolink-4C digital TV & Sat level meter
Tandberg EN8090 encoder. Tandberg ENS990 encoder. Eyeheight uni-panel
Snell & Wilcox IQ modular. Tandberg TT6120 TS processor
Rohde & Schwarz CCVS component generator. Marshall AR-DM1-B monitoring panel
Marshall QV171-HDSDI multi format monitor. TSL AMU2-GB1-D audio panel
Lindos LDM24 analog to digital convertor. Leitch X75 HD synchroniser
Scientific Power VU D9850 programme receiver. Wohler E MON-1/HD digital audio monitor panel
Ateme CM5000 Kyron encode. Elemental 118-18 rack type servers
Scientific D9900 digital content manager (DCM). Tandberg TT1282 receiver
Harris platinum 64X64 HD/SDi router. Venice DVS pronto HD2
TV logic LVM-240W multi format monitor. Sim 2 HDR47ES4MD multimedia monitor (2014)
Marconi 2041 low noise signal generator. Marconi 2031 avionics signal generator
HP 8714C RF network analyser. Lecroy LT 342 oscilloscope
Agilent E4418B EPM series power meter. HP EPM-441A power meter
Rohde & Schwarz SMY02 signal generator. Rohde & Schwarz digital video component analyser
HP 6542A DC power supply. TTi EX354T triple power supply
Marconi 2031 signal generator. Rohde & Schwarz 845.4002.52 signal generator
HP E4421B ESG series signal generator. Marconi 2024 signal generator
Farnell PDD3502A power supply. Lindos LA102 audio measurement set
Rohde & Schwarz SFE 2112.4300.02 broadcast tester. Rohde & Schwarz SFC compact modulator
Tektronix VM700T video measurement set. HP 85032E Type N calibration kit
Skyray Genius 3000XRF x-ray fluorescence spectrometer in carry case
Agilent 8753E network analyser. HP 436A power meter
Marconi 6960B power meter. HP 437B power meter. HP 5350B microwave frequency counter. Quadtech Guardian 6000 electrical safety analyser. Rohde & Schwarz TV test transmitter. Fluke 54200 TV signal generator. HP 8110A pulse generator. Fireberd 6000A communications analysers
Prodigit 3311D electronic load. Agilent 34970A data acquisition unit
Soniflex RB-ADDA AD-DA convertors. Agilent 34980A multi function switch measure unit
Tandberg SM5600 satellite modulator. Tektronix TDS 3034 digital phosphor oscilloscope
Projector white screen, 12x4m approx etc.

LABORATORY / FACTORY PLANT / MISCELLANEOUS
CTS C-40/1000 climatic test cabinet, -40degC - +180degC, 8.5kW, 25 bar (2012)
2x CTS T-40/600 climatic test cabinet, -40degC - +180degC, 6.55kW, 25 bar (2003 & 2012)
CTS C-40/600 climatic test cabinet, -40degC - +180degC, 25 bar (2001)
Vision Engineering SX45 stereo microscope
7x Modulux labatory / electronic work bench, 2400x950mm with sockets & lights
Airrex HSC-3500 mobile air con unit, 25,000BTU, 2.6kW
Qty Emerson Liebert CRV CRO40RC precision colling units (2013)
Qty Emerson Liebert PCW PHO45 UCL precision cooling system (2013)
9x HMF mobile racking system, Dexion racking, 200kgs per shelf, 1200x650mm shelf size
HMF mobile rack system, 215kgs per shelf, 900x600mm shelf size
Renault traffic rear quarter (rear doors only)
Metal modular bike shelter, plastic clad bike stands, 10x2meters
Metal modular bike shelter, metal clad, 10x2meters etc.

WORKSHOP
Meddings MF4 single spindle drill, 80-4800rpm, 350x400mm table
Clarke CBS45MD 6" metal cutting horizontal bandsaw
Stakesys E130 600mm wide bench type folder.
RS 613-864 bench type guillotine, 550mm
RS 602-432 bench type press
RS 471-531 I.D.C press tool. RTD J type drill
Bosch GST-75BE electric jigsaw in case
Bott Compact 7 drawer storage cabinets. Freestanding multidrawer storage units
Bambi 150/100 air compressor on receiver
Clarke 5HHH 2/9 air compressor on receiver, 1.3kW (2013)
Qty various cable etc.

OFFICE / MEETING ROOMS / IT / ART
7x Kinnarps light oak 6 station desk system with blue upholstered partition screens, 6000x2500mm
Kinnarps light oak 2 door mobile storage cupboards, 800x430x1300mm
Light oak 2 section meeting table, 3600x1400mm
Contents of MCR room inc: light oak wavey office desks, Ilyama, Nutrix, Samsung etc monitors etc
Maple 2 section meeting table, 3600x1400mm
Light oak 2000mm 'L' shape office desk
2x light oak / white top reception RF stations, 800x2000mm
Maple 2 section oval meeting table, 4200x1500mm, 10x Vitra black swivel chairs
18x Hafele white training room desks, 1000x700mm with HP desk top PC, LCD monitor
Kinnarps grey upholstered swivel office chairs
Large Qty various Kinnarps etc beech, maple office furniture inc: tables, desks, pedestal units, desk / full height partitions, sliding door cupboards, swivel chairs, filing cabinets
Vitra black upholstered swivel office chairs
Epson EB-1410WI HD interactive projector. Panasonic FW430 HD projector
Large Qty various monitors, PC's, keyboards, base stations etc
2x NEC multisync V551 HD LCD monitors on mobile stand
3 piece light oak / white studio centre piece desk with artificial tree, 3x3m approx.
Qty various fabric colour murals, wall art designs, framed posters etc
Probe Active coat grey / blue 4 door lockers, 600x1900x450mm
Grey upholstered 3 seater sofa beds, 1850mm long
1600mm dia grey top table, various stools etc.

KITCHEN
Qty various serving counters, warming cabinets, chiller cabinets, hot plates, storage cupboards, mobile tray trolleys
Arper Catifa 46 red plastic canteen chairs. Mitab white canteen tables, 1200x700mm
Contents of kitchen area inc: sinks, taps, dishwasher, fridge etc, 7m approx., cupboards, drawers, etc, etc.