4x Honeywell clear acetate uncoated protective fac...
This item was sold in one of our on-line Auctions / Sales. We may have similar items available in our forthcoming Auctions, or if you have equipment to sell please contact us for free valuations, advice etc - Tel: 01778 590111 / Email: info@ppauctions.com or please get in touch with us via our contact page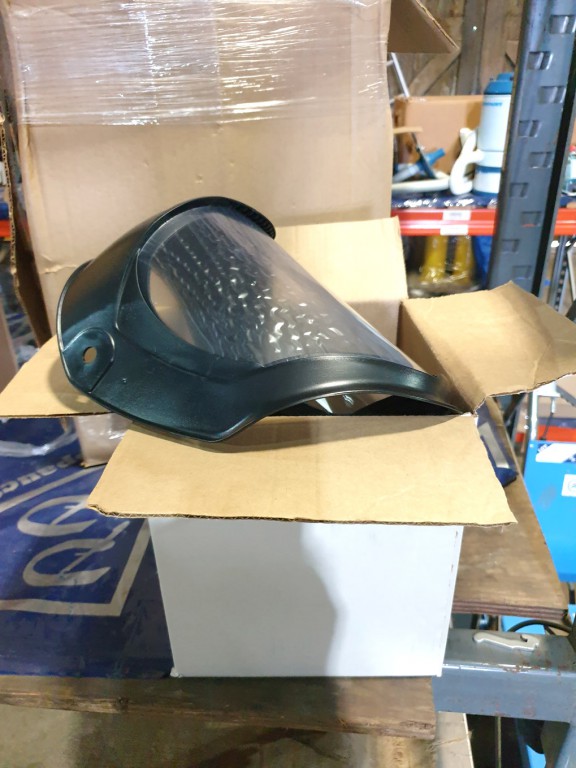 Description
4x Honeywell clear acetate uncoated protective face shields (boxed & unused) - Lot located at: PP Saleroom, Aunby, Lincolnshire
Auction - July Collective Sale
WELDING / MACHINE TOOLS:
Motoman robotic MIG welding cell (2001) with Yaskawa UP6 robot & 2 work positions, Yaskawa XRC controller, SKS LSQ4 welding set & wire feeder, tregaskis torch, torch cleaning station, manual turn table
Twin Yaskawa / Motoman MIG welding cell (2006) including 2 position rotary manipulator, 2x Yaskawa HP6 robots, Yaskawa NX100 controller, Motoman RM2-500 STX rotary positioner, SKS LSQ4 welders & wire feeders
Sodick A280 wire EDM machine, x= 300mm / y= 200mm / z=175mm with Sodick Mark EXEDW control
AI AS-25 spot welder, 77kva max welding power, 20" throat, foot pedal, s/n 49/01
Sciaky SAC100 100kva spot welder, 1000mm throat, Sciaky ComPro302 weld sequence & function timer
EWM Tetrix 421 AC/DC comfort activArc tig welder, 420A with wire feed unit
Miller Syncrowave 351 AC/DC square power source mig welder
Cloos GLC353 MC3 mig welder
Hypertherm Powermax 600 plasma cutter
Jones & Shipman 1400 surface grinder, coolant, 24x8" mag chuck, s/n BO92393
Centec horizontal milling machine, 16x4" table, 85-1400rpm
Emmegi Alpha 400 twin saw, 5000mm table, Emmegi control
Bridgeport tooling package, etc.

LABORATORY / INSPECTION / CLEANING:
Olympus Omniscan SX Ultrasonic NDT composite scanner, Aerotech Ensemble Motion Composer software & equipment (2015)
MetalSoft FabriVision flat part measurement & digitising scanner
Stahli FLM-755-3R isotropic polishing machine, 4000kgs, 900mm dia table, Siemens sigmatic flat panel touch screen control, triple head, 340mm, s/n 1409 (2017)
Gen 3 Systems SB2900 MKIII spray coating system, material / solvents, pots, spare filters, Devilbiss advanced HD spray gun (2012)
Monicon Technology 4 channel gas monitor with T100 toxic gas detector
Instron 4204 Tensile tester with Instron 3111 heat chamber control etc (no load cells)
MecWash M400 Series multi process aqueous rotational component cleaning / coating machine, 550ltr tank, 400x400x1000mm x 150kg basket capacity (1995)
RDM vapour degreaser, 12kW, top loading, electric heated platens (2010)
RSA Rasamat 2001 de-burring machine (2000)
Woodwood 8021001 ball screw efficiency test rig with controller & equipment (1993) (dismantled)
Safelab Systems Arone 1000-GS recirculating fume hood, 900x650x650mm aperture
1500x1200mm granite surface table, etc.

FACTORY PLANT / MISCELLANEOUS:
SDMO X1100K diesel generator, 1000kva, 800kW, Leroy Somer alternator, MTU 18V2000 diesel engine, 58hrs (2006)
ABAC Genesis / 11 270 rotary compressor with built in air dryer and air receiver, 7.5 bar working pressure, 11kW (2012)
ALMIG Flex6s rotary packaged compressor, 1500-7400rpm variable speed, 5.5kW, 5-13bar (2013)
Ingersoll Rand ML110 rotary compressor, 110kW, 7.5 bar, 1480rpm, 49057hrs (2004)
HPC PlusAir Mini rotary screw compressor on air receiver
Ingersoll Rand EN5X553 compressor, 4kW with Hankinson air dryer
Riello UPS MTS60 60kva UPS with battery extension pack (2013)
Guyson GE4 bead blast cabinet with extraction unit
Bendi BE420-106SS electric articulated forklift truck, 2000kg swl, 10,500mm max lift height, 5693hours with charger (Refurbished 2015)
Bendi BOB2047SS electric articulated fork lift truck (2003)
Hyster E2.00XL electric fork truck, 2000kg SWL, 3800mm max lift height, sideshift, 2360mm closed mast height with battery charger (1995)
Xinje M50H-1 Automatic stretch pallet wrapping machine (2010)
Automatic floor type pallet wrapping machine
Workpoint Airbench EX126584 extraction workbench, 1200x600mm (2006)
Hoval Ultragas 250 gas fired boiler, 250kW boiler rating, 44-250kW boiler output, 5 bar max operating pressure, 90degC max operating temperature (2014)
2x secure container including air conditioning, heating & lighting units, 6.055m (L) x 2.890m (W) x 2.936m (H) approx dimensions (2017)
Secure container including air conditioning, heating & lighting units, 6.055m (L) x 2.43m (W) x 3.05m (H) approx dimensions including integrated caged enclosure (2017)
2x Twin Gunter GFVCFD063 triple fan heat exchangers in galvanised cage, 53.01l volume, 10bar, 1510rpm (2017)
Qty Gunter GF VC FD 050.1/11 chiller units, -30c / +50c, 11bar, 15kW (2017)
Airedale twin fan chiller unit
Dusthog 7.5kW dust extraction unit (2002)
Dusthog SBS-6-DB 7.5kW dust extraction unit (1999)
Dusthog FJL-6-2SD 5.5kW dust extraction unit (1998)
Dusthog SBS-4-SD 5.5kW dust extraction unit (1999)
Falcon E7204 stainless steel double door gas oven (2011)
Qty Hanse Lifter hydraulic mobile platform lifter, 1000x500mm platform, 1000kg SWL
Record Hex1150x685 Hi lift pallet truck, electric lift with built in charger, 1000kg SWL (no charger) (2010)
ELP 25 mobile manual pallet truck
Qty various Klime Ezee mobile safety steps
Qty various hydraulic power packs to 22kW (to 2001)
Delonghi Pinguino FX400, Andrews portable air conditioning units
2x Mitsubishi PUHZ-W85VHA2-BS air to water heat pump (boxed & unused)
2x Grundfoss MGI32502 pumps
Ideal 4860 Professional electric guillotine
Qty various plastic wheelie bins, Continental 1100 metal bins, tipping skips, worktables etc
PTO driven generator, Milners safe, floor paint, printers, transformers, inspection camera etc
2 part reels Reka Cables EMCMK-HF Halogen free, EMC power cable, 3x35/16 SWA cable
Gemina Termix T-100M heat exchanger rig with pumps etc (2013)
MJ Mallis banding machine, etc.