3x SPi flange micrometer, 75-100mm, 50-75mm, 1-2"...
This item was sold in one of our on-line Auctions / Sales. We may have similar items available in our forthcoming Auctions, or if you have equipment to sell please contact us for free valuations, advice etc - Tel: 01778 590111 / Email: info@ppauctions.com or please get in touch with us via our contact page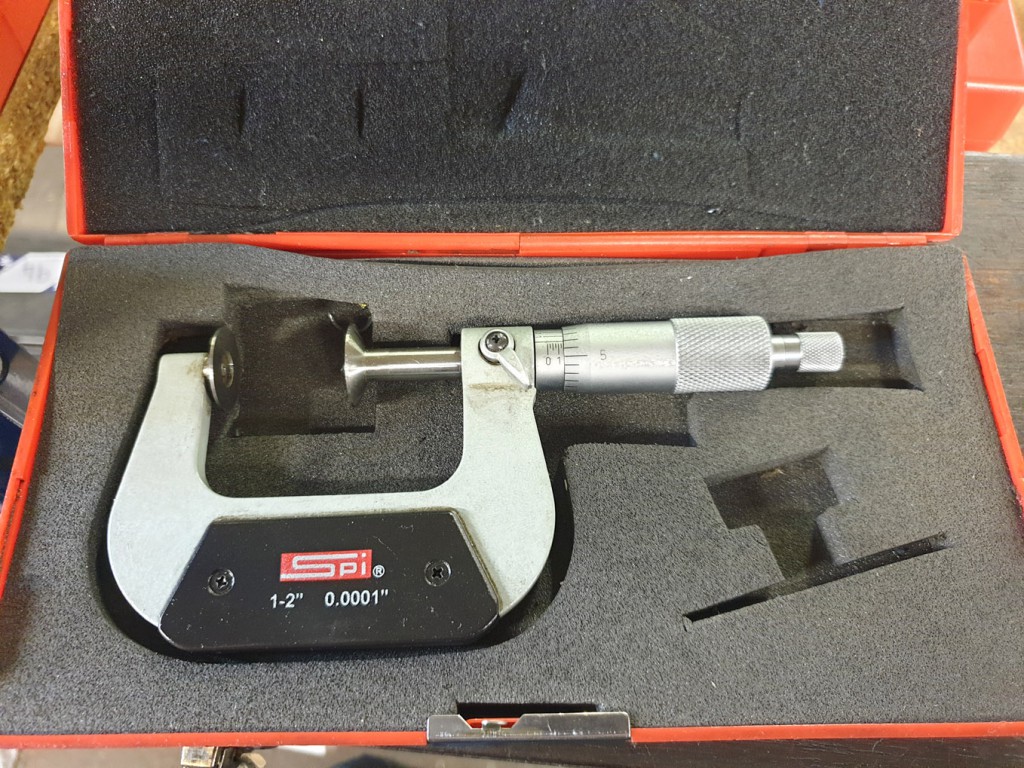 Description
3x SPi flange micrometer, 75-100mm, 50-75mm, 1-2" in cases
Auction - Pritchard Gears Ltd
CNC / MACHINE TOOLS
XYZ Proturn SLX555-1.75M CNC lathe, Proto Trax SLX control, 30-1800rpm (2010)
XYZ (King Rich) SMX300 CNC turret mill, Proto Trax SMX control, 1350x300mm table, 70-3600rpm (2006)
XYZ Proturn SLX425 CNC lathe, Proto Trax SLX control, 25-2500rpm (2006)
American (Rockwell) type H-10-48 horizontal broaching machine, 10 ton x 48" stroke, qty broach tooling
Corona single spindle bench drill, 14x10" table, 330-1870rpm
Vanco 50mm vertical linisher
Grisetti universal grinder with drop down internal, 6" CH x 36" b.c., Goodwin DRO
Astra AR5-E tool & cutter grinder, 24x4" table
Black & Decker 8" DE grinder on base
Kent model KTM-380 turret mill, belt head, 42x9" table, Sony DRO, 65-2700rpm
TOS SN40C gap bed lathe, Acu-Rite DRO, 8" CH x 42" b.c., 22.4-2000rpm
Butler 8" precision slotter, 20" dia rotary table, 1-8" stroke, GT DRO, with bars & chucks
Bison BMS280 manual horizontal bandsaw (2000)
Marlco manual bench press / broach

GEAR EQUIPMENT
Sykes type V10B Precision gear shaper, 48" rack table, 2 3/4" face, variable speed table feed, 3 cut cycle, cutters & change gears, s/n MP186/35
Sykes V10A gear shaper, with 30" rack table
Fellows No 61A gear shaper, 6" riser block, 24" dia ext, 5" face, 12" dia int, change gears & equipment (Rebuilt 1999)
Fellows 61AH gear shaper
Fellows No 6 gear shaper, 9" riser block, setup for internal (cast iron), 28" dia ext, 5" face, 36" table, index & change gears etc
Fellows 7125A gear shaper, 3" riser block
Fellows model 3x60 rack shaper, 84x12" table, 72" x 3 face up to 3dp capacity, change gears
Drummond Maxicut No 2A gear shaper, 3" riser block
Drummond Maxicut No 2A gear shaper, 2" riser block, s/n FC-ARC 3440
Drummond Maxicut No 2A gear shaper, 2" riser block, s/n FC-ARC 3732
Drummond Maxicut No 2A gear shaper, 3" riser block
Sunderland 19S gear planer, spur gears & sprockets, 54" dia, 10" face, Con No. FF480
Sunderland 16 gear planer, 6" face, to 32" diameter, helical & spur, change gears & steady, Con No. AA48
Sunderland 5A gear planer, 5" face, 12" diameter, change gears / mandrel etc, Con No. DD277
Dowding & Doll model H7 Long Bed universal gear hobber, 36" b.c. (16" in one pass), change & diff gears / hobs / mandrels
Dowding & Doll model H7 universal gear hobber, 24" b.c. x 7" dia, change gears
Pfauter RS00 universal gear hobber, 10" dia max spur / helical & worm, 6.5" face width, M/C No. MM105
Pfauter RS10 universal gear & spline hobber, 6" x 15" max capacity, change / diff / index gears & mandrels
David Brown Muir MT15 gear hobber
3x Parkson etc bench type rolling gear testers
Parkson rolling gear tester, 40" max height x 48" travel, long pinion shafts & worm wheel attachment, Con No. 70324
Illinois Tool Works helical lead checker, 7" CH x 20" b.c.
Parkson Sunder cutter grinder, 42x7" table
Zuffenhausen model M512 worm & thread mill, 36-112rpm, 650mm b.c. approx, s/n 12-078
Churchill rotary grinder, 14" dia rotary table, 12" dia wheel
Gleason 12" straight bevel gear generator with hydraulic chucking, gauges / cutters / mounting arbours etc
Heidenreich & Harbeck bevel gear shaper (gearbox needs repairs)

TOOLING / INSPECTION
Large Qty gear tooling inc: DP / modular / spline, etc hobs, disc / internal cutters, etc.
Inspection / small tooling inc: Burnerd 3 jaw chuck, Eclipse mag chuck, surface plate, height gauges, micrometers, calipers, clamps, slip gauges, stands, vices, drills, stamps, hand tools etc.

FACTORY PLANT / MISCELLANEOUS
Clarke Strongarm CSP50F 50 ton garage press, adjustable height
ABAC Pro A29B air compressor on air receiver, 2.2kW, 240v (2019)
Wilmat mobile hydraulic lifter
Thermobile CH18 18kW industrial mobile heater (2008)
Clarke Devil 900 space heater
Clarke CFT230 fuel transfer pump
500kg chain block, workbenches, office, etc.