NEC HPC-1901 interlock panel
This item was sold in one of our on-line Auctions / Sales. We may have similar items available in our forthcoming Auctions, or if you have equipment to sell please contact us for free valuations, advice etc - Tel: 01778 590111 / Email: info@ppauctions.com or please get in touch with us via our contact page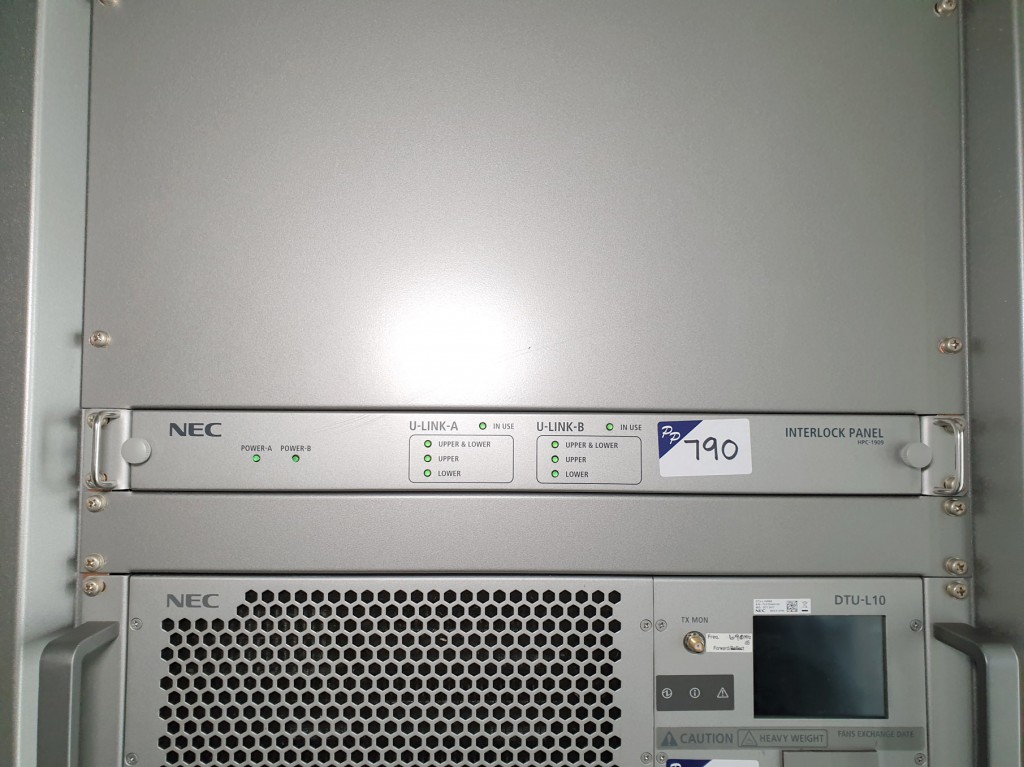 Description
NEC HPC-1901 interlock panel
Auction - June Collective Sale
Over 750 lots of high quality electronic test & broadcast / media equipment.

BROADCAST / MEDIA EQUIPMENT:
Eyeheight menu adjust panel. Evertz 400FR & 500FR audio distribution frame
Leitch Mix Box, CTP editors earpiece volume control
Quartz CP-3200A router controller. MurryPro E2-Mon HD 4 channel PPM
AKCP security probe X-20 SNMP & Web enabled intelligent monitoring device
7x Screen Polistream U4000 & P5000 subtitling units
Tektronix WFM 601A serial component monitor
Harris Videotek TVM9100 PKG monitor, TSL AMUT-2MHD audio monitoring unit
3x Devlin F1-KSA-042-040 Axon key panel. Kramer VS-162AV 16x16 audio video matrix switcher
Avid Nitris DX. Trilogy orator intercom rack unit
Kramer VS-81AV 8x1 video / audio stereo switcher, Kramer VM-1044 video component distributor
2x TSL ACU1-8 network controllers. Tascam LA-80 unbalanced to balanced line convertor
3x Alpermann & Veno video data processors. 2x Adaptronic KT110 controller
Astro Design VG-819 digital video generator. Dynatech 1103 V24-X21 convertor
Schwarzbeck Mess-Elektronik D-6901 attenuator. Leitch ADC-5112-L studio clock
7x Trilogy Commander control panel. Kramer VM-10XL video audio distribution amplifier
Kramer VS-2016 vertical interval switcher, Kramer VM-1045 video component distributor
3x Tandberg TT1220 receiver. 3x Softel SE3067 OPT decoders
Snell & Wilcox IQ modular chassis. 2x Q Logic San box 5200 & Brocade Silkwork 2800 network switches
Qty various Sony, Panasonic, Thomson etc digital video cassette recorders
6x Pro-bel 1149 PSU, Pro-bel 6276/6277 controller. Riedel RSP-2318 smart panel key panel
Soniflex Redbox RB-UL4 Quad unbalance / balance unit. 4x Evertz 8010TM SDi time code master
TSL SAM1-3GM audio monitoring unit. Quasartech dual LCD rack type unit
Snell 6026 digital router panel. 2x Raritan Paragon enhanced user station
Black Box rack type monitor. Qty various Evertz input cards. Chromatec AM-1/4 in-picture audio meter
2x Ross Video TE9-UNI-971 programme unit. 2x Adtec Digital SDi Mpeg2 commercial inserter
2x Eyeheight TXM246 audio description decoder. Qty various Miranda audio bridge terminals
8x Matrox Y16171-00 VGA cables (unused). 2x TTR line detectors
Trilogy dual channel telephone hybrid. 2x Snell IQ modular frames
2x 360 Systems image server broadcast time delay
2x Omneon video networks media ports, 3x Omneon video networks 2102 media director
2x Omneon video networks 3006 multiports, 2x Omneon video networks 3006 multiport MIP
3x Omneon video networks 2102 meida directors
2x Omneon video networks 5200/5300/ 5000 / 5500HD media ports
3x Austin Hughes RKP117-1601e rack mount monitor keyboard
2x Miranda Kaleido KXR-GP1-Gen input cards. 9x Miranda 5CP-1121-SDi control probe
Miranda HAD-1851 HS/SD digital video distribution amplifier input cards
Miranda ABT-32-32-D110 audio bridge terminal
Raritan DKX3-832 Dominion KX111 digital KVM switch. Various Miranda input cards
2x SDA-1112 SD reclocked digital video distribution amplifier, ADX-1842 HD/SD 4 AES disembedder, ADA-1023 dual analog audio distribution amplifier
Miranda HCO-3901 3G/HD/SD change over. DSK/LGK-3901 mezzanine input card
Miranda Oxtel series 300+ image store. 3x Miranda PCS-003 presmaster
Qty Miranda Xmedia server, Miranda Vertigo XG media server
Qty various Miranda Densite 2 & 3 housing frames. 3x Pixel Power broadcast systems H105 clarity
4x Grass Valley K2 summit production client server. Planar clarity BOB CAT X LCD monitor
3x EMK DSS-410 serialisers (boxed & unused) Qty various Sony batteries, chargers, lights, etc
Shure VP64A microphone, 2x Logitech speakers. Panasonic BT-LH1700WE LCD video monitor
Qty various Omnibus Pci VITC input card, cherry track ball keyboard, Omnibus serial input card
3x Gefen FM Plus fiber optic DVI extenders, Gefen DVI detective
DHD RM2200D digital broadcast mixing panel. 2x HP TFT 7600 rack type monitor, keyboard
Yamaha T-D500 natural sound tuner. Sony ST-SE 370 FM. stereo FM/AM tuner
Daewoo DS700 freeview box. Qty various DHD mixing panels, RM4200, RM330
DHD RM420-014 digital console panel. Pro-bel TX master control, intervention panel
Sony BKP-9057 view finder saddle, Sony CA-905F large lens adaptor
Tamuz Golden Eagle HCM 100 LCD video monitor. 2x Panasonic BT-LH1700WE LCD video monitor.
Videssence best boy power unit. Telex RTS-KP32 command unit
2x Soniflex audio net log. DigiDesign sync. 4x Tektronix WVR6100 rasteriser
Microboards PF-3 disc printer. HP Procurve 2626 & Cisco catalyst 2960-X Series network switch
2x Systemax fibre optic frames. Hi Tech HT772.4 control. Telex RTS U10-256 control
TSL audio speaker unit. BCD audio installer 12 rack type frame. Aeta scoop reporter
2x Audionics audio monitor units, 2x Audionics sub mixer. Arban optimod 8500 FM digital audio processor.
Omneon 5.23 system manager. 4x Gefen DVI 1000 HDR optical DVI extension
2x Startech SV565UTP KVM console extenders. 3x Avocent KVM power supplies & module cables.
Glensound GSOD1/131 mains audio console. Sony DSR-PD100P digital camcorder
2x Axon SMP 80 power supplies. 3x Vinten fibretec camera tripod (no head)
Sachler video 18 tripod head. 2x Orban optimod-PC1511e rack servers & expansion chassis
2x Pro-bel rack type frames. Overture ISG180 network router
Drawmer DL441 quad auto compressor limiter. Quartz SI-001 rack type panel
2x Snell & Wilcox IQ kudos control. 2x MurryPro cage CCIR Vid
Tektronix WFM 601E serial component monitor. Tektronix WFM 601M serial component monitor
3x Snell & Wilcox IQ kudos housing frames. Qty Telos Zephyr digital network audio transceiver
2x Leitch X-Plus modular routing switches. Sony BVS-V1212 video routing switcher
Comrex stac hybrid main frame. 3x Calibre VGA 10 channel frames. NTP 377-200 housing frame
Microvide SDi digital data bridge, 2x micro video SDi digital data inserter~
Genelec 8030A bi-amplified motoring speaker. Trilogy 500-41-00 talkback unit
2x X-Vision digital quadplex. Trend Aurora 2 basic rate ISDN tester in carry case
2x Snell & Wilcox Magic Dave 3D digital main frame. Intelfax rack type dial. Pro-bel 6284 frame
Quartz monitoring matrix. Snell & Wilcox ARC 150L aspect ratio converter
Viewcast Niagara 6226 server. 4x Harmonic Spectrum advanced media server & media centre
5x TSL displays. Black Magic mini converter SDi to analog & SDi to HDMi
2x Oxygen DCT Ox Box mini series 4500 analogue VDA
Redbyte Design SD12DAC de-embedder audio converter
2x AJA vdieo D5DA serial distribution amps, 2x AJA H15 HD-SDi / SDi to HDMi converters
Qty various NEC, Sony, HP, JVC etc PC's, Servers, data stores, TV's, monitors etc to 103"
2x Tektronix 2445A oscilloscope. Aluminium transit case. 3x Vinten mobile camera pedestal
Qty various Bird Termaline coaxial resistors. Spinner 5kW test load
Bird DA10F30 & DA15F30 test load. EVS XT2 & EVS XS rack type main frame
2x Sony Trimaster PVM-A250 professional video monitor (2017)
AMS Neve 04135c+/1 housing frame. EFi command workstation
Qty various hanging studio bars with clamps EMIL Nethammer studio spot light
HP storage works enterprise systems library
Foxboro Miran IA CVF, Philips PM8251 single pen recorder. Kikusui control unit
Sony Petasite tape library (circa 2010)
2x Target Audio speaker stands. HP DesignJet 510 large format printer, etc.
ELECTRONIC / TEST EQUIPMENT:
2x Anritsu ML2437A power meter, Anritsu MA242AB thermal sensor. Telequipment D1016 oscilloscope
Booton Electronics RF millivoltmeter. Tektronix 2230 digital storage oscilloscope
Aeroflex IFR2945B communications service monitor. Gould OS4040 digital storage oscilloscope
Hatfield attenuator. Global 5001 universal coulter timer. 2x Megohmeter IM6 tester
Levell TM14 insulation tester. 2x Gould J3B audio signal generator. Racal 9824 UHF frequency meter
HP 37702A digital data tester. 2x Marconi radio interface unit. Tektronix P6042 DC current probe
Rohde & Schwarz LRT BN 6100 inductance meter. Qty various Weir, Farnell etc PSU's
GR 1688 precision LC digibridge. HP 8350B/83522A sweep generator
2x Solartron / Schlumberger 7060 systems voltmeter. HP3325B synthesised function generator
Phillips PM5193 programmable synthesised function gen. HP 1631A logic analyser
HP 8082A pulse generator. HP 8903A & HP 8903B audio analyser
3x Datron 1061A autocal digital multimeter. Datron 4000A autocal standard
Datron 4708 autocal multi function standard. HP 8902A measuring receiver
Fluke 6061A synthesised RF signal generator. HP 8753C network analyser. MBS micro bonding system
Eprom UV140 eraser. HP 5245L frequency counter
Farnell SSG2000N & HP 8672A synthesised signal generator
Hatfield 1000 psophometer. Qty various Claude Lyons (Zenith) variac
W&G WZL181 coils turn indicator & PJ2 test jig. 14x various Rheostats
GN Nettest CMA 4000 communications media analyser. 2x HP 4342A Q meter
Levell TM14 insulation tester. 3x Advance VM77E AC millivoltmeter. Marconi TF2162 attenuator
Advance Electronics VM78A AC millivoltmeter. Wayne Kerr B424 component meter
Advance J2B AF signal generator. Startronic 100.2 lohmeters. Bruel & Kjaer TU0005 output transformer
BPL RM155-B/3 low resistance ohmmeter. Avo RM 215-L/2 AC/DC breakdown leakage & ionisation tester
Amplifier Research 25W1000 RF amplifier. Marconi TF2330 wave analyser. Marconi 144H/4 signal generator
Miles Highvolt IT30 insulation tester. MFL transformer test unit. ETM 400IJ band amplifier
2x Sullivan T2900 megohmeter. Marconi TM4520 inductors
James Products Ltd 8050D-H ultrasonic cleaner. 12x Avometers
Rapra standard rubber hardness specimens, Bareiss hardness tester. HP 54100D digital scope
HP/Agilent 4191A RF impedance analyser. Wayne Kerr Advance SG70 high power LF (audio) oscillator
2x Druck DPI 515 pressure calibrator controller. Comark digital thermometer
Fluke 8050A & Fluke 8800A digital multimeter. HP 5315A universal counter
Racal 9008A modulation meter. Marconi 2167 RF amplifier. Boonton 92B RF millivoltmeter
Beamex TC303 temp calibrator measures volts, ohms, etc
OOR-X 402A programmable arbitrary function gen. Kikisui TOS 5050 with standing voltage tester
2x Lambda Gen100-15 power supply. Labfacility L200-TC-00 temperature monitor
Torqueleader TSD150 electronic digital driver. Aethra D2000 Pro ISDN analyser tester
Micromotion inc Elite RFT 9739D 4 EMA remote flow meter / transmitter. RDP RLU01000KG load cell
Saffire multistage pressure gauges etc. Marconi 2438 universal counter timer
Marconi 2430A digital frequency meter. Marconi 2610 true RMS voltmeter
HP8157A optical attenuator. Hewlett Packard 8116A pulse / function generator
Racal Dana 9917 UHF frequency counter. Keithley 705 scanner. Tektronix PG508 pulse generator
Tektronix AM503 current probe amplifier. Eaton EX1000 uninterruptable power supply
Hewlett Packard 8447A amplifier. Pressure test rack, 2x Druck gauges, 2x Schaevitz gauges
2x Schaevitz pressure sensors, 1x Druck sensor. 2x Bentham lock-in amplifiers
Blackstar 3332 32 channel logic analyser
Qty various Robin lightmeter, RS temperature meter, Lan tester, Budgie thermometer, Dymo label maker etc
Lem Norma GEOX insulation / earth tester with clamps & coils in case
2x Ling Electronics TAP1000 test article protector. Pickering PXI mainframe. HP 334A distortion analyser
HP 37732A telecom / datacom analyser. Marconi 2305 modulation meter
HP 8954A transceiver interface. Hewlett Packard 8569B spectrum analyser. HP 8133A pulse generator
GR 1490B decade inductance box. Tektronix TDS420 digitising oscilloscope
Tektronix AWG 610 arbritary waveform generator. Philips PM5134 function generator
Telecommunications Firebird 4000 communications analyser. Wavetek 164 sweep generator
Sony IF-500 multiple interface box. Yokogawa LR4110 chart recorder
Qty various Time Electronics, Croydon & JJ Junior resistance box. HP 5335A universal counter
Marconi 2386 spectrum analyser with 2380 display. HP 8161A programmable pulse generator
Solent flow sensor control box. Marconi 2850 digital transmission analyser
Simco Pulsegun five PG-5 ionising gun. Olympus NDT Bondmaster 1000E+ composite inspection instrument.
EEV EZV CX1559 electronic valve 2x RS 180-7133 light meters, 2x Testo 512 thermometers
2x Robin 5312 miniature chart recorder. Mitutoyo HDS-G24 digimatic height gauge
Digi-Pas DWL-3000 X-Y digital level & vibrometer. Qty various Agilent / HP manuals
2x Tektronix 521A PAL Vectorscope. Dynamic 1200W electronic dummy load simulator
2x Wayne Kerr 3245 precision inductance analyser. Druck pressure indicator
Brady TLS2200 labelling system. West Tech SC4 helium reference leak
2x Narda 4053 directional coupler. Anaren 70340 coaxial mixer. SMA semi-rigid connectors
2x HP/Agilent 33311B coaxial switch. HP/Agilent 33321H attenuator
2x Narda 4772-20 micropad attenuator. HP/Agilent 33320H attenuator. 2x SMC IZF10-LP ionizer
Sartorius BL150 balance scales. CV Instruments SHD0002 shore Durometer
9x Wayne Kerr 3245 precision inductance analyser. 2x Marconi 2955 radio comms test set
2x Aluminium transit / flight case on wheels. Andrew portable X-ray equipment
Qty high pressure hoses, gauges & couplings. Qty various Swagel / Whitey stainless steel cylinders
Leica GLS100 & intralux 4000-1 light source. 2x Zebra 90XI printers
Fluke 117 true RMS digital multimeter & Fluke 323 true RMS clamp meter (2017)
2x Nardalert S3 broadband personnel monitor in case (2017)
3x Rohde & Schwarz ETC Compact TV analysers (2017). 5x Anritsu 15RNFN50-1.5-R cables
Qty various Sunrise Telecom inc: 2x RXT carrier modules, MTT plug in module, SDH/Sonet SSMTT-38 module W&G PFA-35 digital communications analyser
Racal Instruments FIT mobile tester. NLT NL10276BC20-18D LCD display
3x W&G OVF-1 visible fault locators. 2x Agilent 54620-61061 logic analyser probe
Intec Argus 145 plus hand held tester. 4x Rohde & Schwarz RT-ZS10E active oscilloscope probe
Melcor chiller unit 3x Sunrise telecom RXT 1000 hand held tester
2x Sunrise telecom MTT basic colour test set. Acterna ANT-5 SDH/PDH access tester
GN Nettest CMA 4000i communications media analyser. Keysight 34941A Quad 1x4 RF MUX input module
Keysight N1294A Opt 032 digital trigger cable. 10x JDSU multi services application modules
2x HT instruments HT9015 AC/DC TRMS clamp meters. Fluke 1652 multi function tester
Kathrein portable control adaptor. VMTS SPAA-05 satellite positioning antenna alignment tool
W&G OLA-15 optical attenuator in carry case. 10x Emacs AX2-5250F(B)-25 fan units
Tektronix 067-0484-02 desk fixture. Thermo Scientific Haake S21P cleaning tank
Grant cleaning tank (ultrasonic). 2x Advantech PC labs cards. Fluke Hydra data bucket
BICC Data Networks Isolan repeater. Radiometer OXI meter
2x Thermaltake Aquarius III external liquid cooling. New Focus 3501 optical chopper
DEI PCX-7410 laser diode driver. Profile TED350 T2P temperature controller
ILX Lightwave LDC-3714B laser diode controller. Zvision ZWL-190 aging test instrument
6x HP 66102A DC power modules. HP 83487A optical / electrical module. HP 16500A logic analyser
2x Agilent 70843B error performance analyser. 2x HP 70311A clock source
Agilent 70843C error detector. Arimar neptune life raft. Qty various Bedea 1098 RG214 cable etc
Black transit case. 4x Westover FBP probe microscope
10x Westover Scientific FBP probe microscope with HD2 display
Omnitest Expert data ethernet E20 CSMA/CD tester. 4x Huawei expansion cards
Agilent J6827A BNC monitor tap. PC Tel Seegull EX GPS navigation unit
Ideal Networks Uni Pro Gbis hand held control. JDSU MTS 8000 hand held tester
Intec Arcrus 152 hand held tester. 2x Spirent Communications Tech-Xflex model Cuivre
JDSU fibre check pro handheld tester. Sunrise telecom Sunlite E1 tester
4x Viavi 6000AV2 series module carriers. Intec Argus 152 hand held tester
Wavetek MTS 5100e media test set. Accelink DCM-F-C-100-LC/UPC 57 dispertion compensation fibre unit
Teledyne Lecroy PP008 & Philips PM8926/59 probe leads
4x Argus adaptors, 3x IBC brand cleaners. Commscope 15dB air directional coupler
Data S ZBSC-8-82-S+ mini circuit. 8x Naradalert link microtek testers
2x Agilent J6826A balanced monitor taps. 5x 15NNF50-1.5A, 9826 cables
Blue Ocean mega phone. National Instruments BNC-2110 panel
11x Fluke network adaptors. 2x Acterna interface modules. 2x Rohde & Schwarz RT-ZL04 logic probes
8x Agilent 10074C probes, Anritsu 2000-1537-R power sensor cable
5x Anritsu 15NDFN50-1.5-C cables. Flann 19310-02 programmable rotary attenuator
2x Solartron S1 3535D data logger. Anritsu MS2026C VNA master analyser in transit case
Zoll AED Plus in carry case (no leads). Laerdal ALS bady trainer in carry case
NEC HPC-1901 interlock panel. Qty NEC DTU-L10/R6S UHF digital TV transmitter
Qty Jenelec JE/SC250-CP-001 AC/DC power supply. Qty Diconex 17-0803NU 1000W loads
Aluminium rack inc: 2x RFS RF switching units, Emerson GXT4-2000RT23E UPS, MDU, network switches, 12x RFS 6PPXX80E filter combiners, etc.
CONTAINERS:
2x Climate controlled secure container only with built in air conditioning, heating and lighting, 6.055m (L) x 2.890m (W) x 2.936m (H) approx dimensions (2017)
Climate controlled secure container only with built in air conditioning, heating and lighting, 6.055m (L) x 2.435m (W) x 2.6m (H) approx dimensions (2017)