Qty various hand tools inc: spanners, clamps, saws...
This item was sold in one of our on-line Auctions / Sales. We may have similar items available in our forthcoming Auctions, or if you have equipment to sell please contact us for free valuations, advice etc - Tel: 01778 590111 / Email: info@ppauctions.com or please get in touch with us via our contact page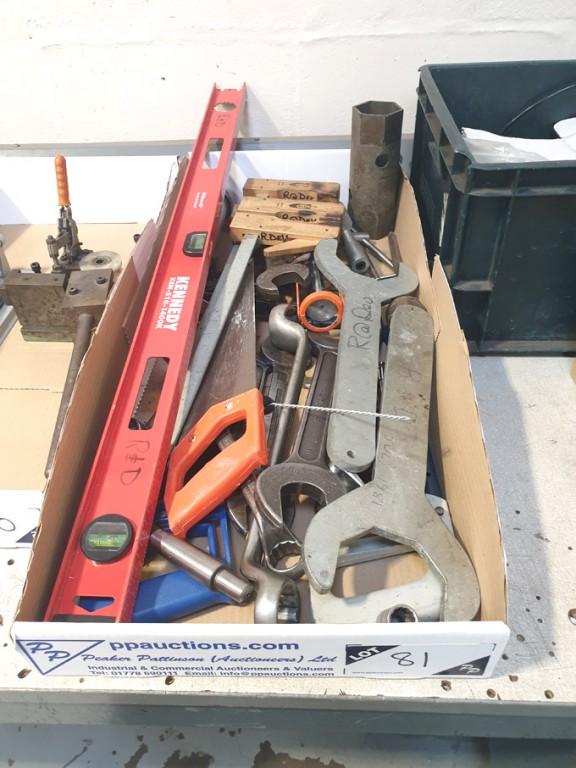 Description
Qty various hand tools inc: spanners, clamps, saws, Kennedy spirit level etc
Auction - Heatrae Sadia Auction
Robot Welding Cell
OTC Daihen robotic mig welding cell (2011) including OTC AII-B2 6 axis robot welder, AX21 control, OTC DP-400 digital inverter, cleaning station, Nederman extraction / filter system in enclosure with camera & screen - located at: Preston, Lancashire

Machine Tools / Sheet Metal
Arboga Maskiner E830 heavy duty single spindle pillar drill, 80-890rpm, 500x600mm RF table
Jones & Shipman 1310 universal grinder, 18" b.c. x 8" swing with swivel internal & coolant
Jones & Shipman 540AP surface grinder, 14x6" mag chuck, 24x6" table, powerfeed, dust extractor & coolant
Brierley ZB32 tool & cutter grinder, 32mm capacity on cabinet base
Inelco Ultima Tig UTO3-2 tungsten electrode grinder on stand, 8400rpm, 240v
Canning DE polisher
Bridgeport Series 1 2HP turret milling machine, Varispeed head, 42x9" table, Heidenhain DRO, powerfeed, 50-3750rpm (1980)
Startrite 14 RWF vertical bandsaw, 14" throat, 21x21" table, blade welding attachment
Startrite 24-S-5 vertical bandsaw, 24" throat, 19x19" table
6x3ft CI surface table
Qty small tooling / inspection including: rotary table, vices, Eclipse demagnetiser, slotting head, drills, height gauges, depth gauges, micrometers, vee blocks etc
Edwards Besco Truecut model 6/125 powered guillotine with manual back gauge setting
Edwards Truefold box & pan folder, 50" wide capacity
RS Components hand folder, 620x1.2mm mild steel
FJ Edwards treadle guillotine, 3ft x 16G capacity
Edwards 40x2ES manual bending rolls, 40x2" capacity
Frost type 399SG 30" swager / circular cutter on cabinet base
Prinzing SME100 / 4P hydraulic ring roller (2004)
RMT & Hare presses
Miller DialArc HF-E constant current AC/DC arc welding power source
EWM Tetrix 421 AC/DC Comfort activArc tig welder, 420A with wire feed unit
Sciaky SAC100 100kva spot welder, 1000mm throat
AI AS-25 55kVA spot welder, 20" throat, foot pedal
Blacksmiths Hearth, 1000x600mm with torch & gauges, etc.

Factory Plant / Miscellaneous
2x Workpoint Airbench EX126584 extraction workbench, 1200x600mm (2006)
Pelloby 4 pillar overhead gantry, 1500kg SWL with manual chain hoist, 8x5m approx. footprint
Coolie manual pedestrian lift truck, 500kg SWL. Eccles hydraulic pedestrian lift truck, 1120lb SWL
DCE Unimaster UMA154G5 dust extraction unit, 3kW
Plymovent MultiFume Caddie mobile fume extractor
Clemco shot blast cabinet with extraction unit, single gun, 800x600mm work envelope
Qty maintenance spares including cable, fans, motors, ducting, nuts, trunking, cable trays, pipe fittings, electrical sockets, handrail fittings etc
Nilfisk Alto ATTIXWAP portable vacuum cleaner, 2400W, 240v
Numatic WVD752 portable vacuum cleaner, 2000W, 240v
2x Kobe 840i wet / dry vacuum cleaner, 2000W
Qty various pressure pots, tables, heavy duty boltless pallet racking, trolleys, steps, Martek inkjet printer / marking machine
2x floor type bar racks with contents inc: copper, aluminium, steel, plastic etc round, tube, sheet etc
Qty various light duty storage racks, work tables, storage cupboards, hoovers etc
Qty various size galvanised drip flooring platforms, floor mounted wire mesh guarding / security fencing, non slip fibreglass flooring etc
Daikin EWAQ0005CV3P air cooled mini-inverter (2010)
Bergman PS-3100-72 roto compactor (1994) (spares or repair)
11x Record, Liftmate, Warrior etc 1000kg manual / battery operated high lift pallet trucks
3x EdmoLift electric lift tables. PB cardboard Baler
Tricool Combi chillers, hydraulic powerpack, OTC Accutig300P inverter, 2x electric roller shutter doors, Crane fork pallet lifter attachment
Qty various Donati etc floor mounted swing jibs, Dalmec manipulator, vacuum lifters, Grundofs pumps, fire extinguishers, ducting, expansion vessels, Mitsubishi Electrical spares, roof tiles, drum movers, plumbing / electrical spares etc
Qty various cabinets, table, lockers, filing cabinets, Rexel 1350 paper shredder etc
HP DesignJet 500PS A0 large format printer, network connectivity, 4 colour ink tank, etc.