Qty CRD 94mm & 100mm Ridgidrain double socket coup...
This item was sold in one of our on-line Auctions / Sales. We may have similar items available in our forthcoming Auctions, or if you have equipment to sell please contact us for free valuations, advice etc - Tel: 01778 590111 / Email: info@ppauctions.com or please get in touch with us via our contact page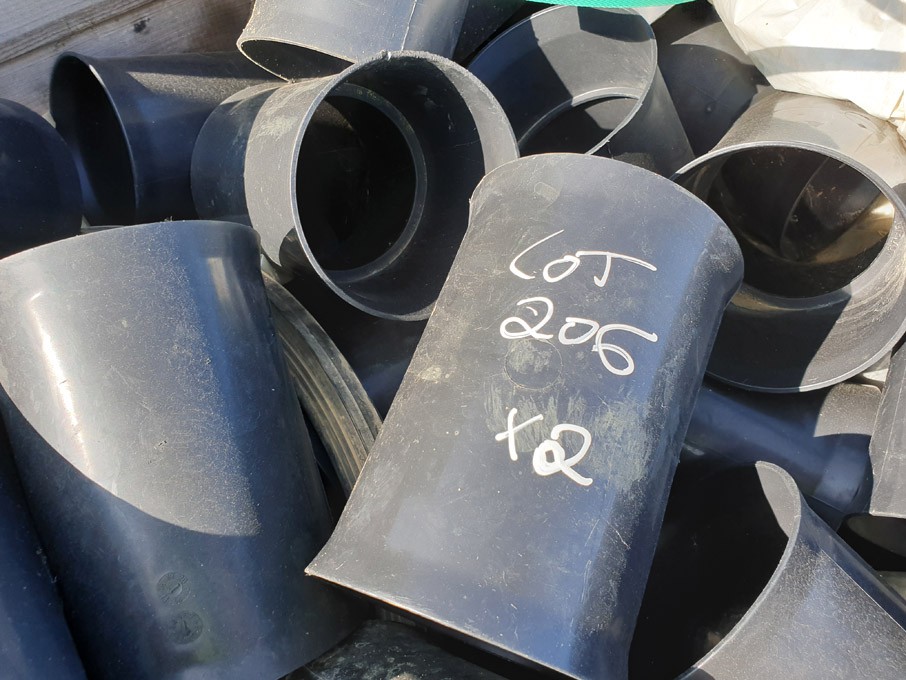 Description
Qty CRD 94mm & 100mm Ridgidrain double socket couplers
Auction - A14 Integrated Delivery Team
OVER 950 LOTS -
Surplus equipment available due to completion of the A14 Huntingdon to Cambridge Improvement Scheme:-
Ground Surveying Equipment
Intel Falcon 8 Topcon Drone with accessories
2x Leica TS16P 5" R500 total station with 1/2 traverse kit
Leica TS15 P 1" R1000 total station with full traverse kit
Leica TS16P Robotic upgrade kit
2x Trimble R8-3 GNSS receivers (1x Trimble TSC2 controller)
Trimble R6 GPS receiver
4x Trimble R4 GPS receivers (2 with Trimble TSC3 controller)
Trimble TSC3 controller
Leica DNA03 digital Level c/w illuminated 2.0 metre staff
2x Leica Rugby 400 dual grade laser level. 2x Leica Rugby 280 dual grade laser level
Leica Rugby 270 single grade laser level. Leica Rugby 280 DG.
3x Leica Rugby 610 rotating level. 3x Leica Rugby 100 rotating level
Leica Rugby 400 Laser Level. Radio detection RD8100 underground electric scanner
Compound
Trime X-ECOK2 diesel lighting tower on towable trailer, 6x LED spot lights, 3.5kva (2018)
Secure self-contained container inc: A/C unit, 10x11ft (2018)
2x 40ft shipping containers, 1 with enclosed rooms & wooden racking (2001)
20ft shipping container. Self-contained jack legged portable building, 10x8ft
4x 6x8ft secure cabins with roller shutter doors
8x8ft self-contained UPVC clad shed with Worcester boiler
2x Gladson modular bike shelter, 4m approx. (2017)
2x free standing smoking shelters, 2750x1870mm
2x 5 station boot wash with drip tray
5x Rolec EV 3.2amp twin car charging ports, 7.2kW (2017)
Roadside lamp posts & lights, lamp posts no lights, LED lights
Qty various 1000 litre IBC's. 6x flag poles. Large selection of various signs inc:
speed limit, visitors, life buoy, power cables, exit, heavy plant, etc
Qty various oil drip trays. Safesmart steps, Jack pads
7x PNS towable digital road signs with solar panels. Qty various sign stands, cones
Eichinger FE 1075.E man baskets, load cap 250kgs (2018)
Eichinger 1045.14 muck skip, 3T load cap (2018)
Eichinger 1500kg cap tipping skip (2018)
Qty various wire mesh. Wooden first aid booths. Various sized wooden pallets
2x CCTV masts, 18m & 22m, Jack up. Foreman wooden sheds, secure cages
Qty various plastic free-standing safety barriers.
Mobile aluminium safety platform. Grantham fabrications access platform
Fuel safe storage cage, 1850x1240mm. Peek roadside traffic lights. 2x Single door security cabin
GS6 extension cable poles. 12x2ft Arris fencing
Lifting Gear UK wire rope lifting frame, 10T max. Qty various straps
Road / Construction / Materials / Stock (mainly unused)
Chain link fence posts. Tensar Triax TX160 soil restraining material
Polypipe filter drain pipes to 600mm dia x 6000mm
Polypipe filter carrier pipes to 600mm dia x 6000mm (2020)
Polypipe rigid drain double socket couplers to 600mm dia (2019)
Tensar RE520 geogrid, 1.3x75m (unused)
Various pipe fittings, couplers, 90deg bends, 145deg bends, gaskets, Y junctions etc
Althon concrete head walls. Aluminium handrails (spares)
Filter drain piping. Qty various Aco Qmax draining pipes
Sewage inlets. Fildrain 10BBA filter drain. Large Qty wire mesh fencing systems
Plastic ground protection mats. Large Qty various concrete tunnels inc: collars to 1200mm dia
Plumbing & drainage pipes. Large wooden crane mats
Qty various kerb stones. Aco PD200F road drain channels
Farmer chairs. Purple communications piping / tubing
Qty various road / safety cones. Various tins of bitumen
Hepworth temporary man hold covers. Wooden cable drums
Red / white metal safety barriers. Nexans IXL135 cable on wooden drums, power cable, etc
Colour top black block paving, 200x100x80mm. Marshalls concrete slabs, 450x600x50mm
Qty various draining kerbs, beany mono 45deg, slayed 502, 1000mm
Qty various Solco Roadcoat barrier paint, KenderRoc ST05 liquid, Tarmac acrylic primer, Safecure curing compound. Geofabrics black matting, fluid matting
Marshalls steel manhole covers, drains etc.
Excluded foam for expansion joints. 300mm steel concrete shutters
Large wooden crane mats. Black rubber eco matting, 330x330mm. CPM concrete tunnelling
Crps excel NB water tubing, 180mm. Acros & crawling boards
Polypipe rigid drain plain ended, 225mm. Grass concrete GB125 blocks (2019)
Concrete flow meter. CPM manhole rings, concrete, seals
Concrete manhole risers, 675x675mm, 450x450mm, gully risers
Polypipe collars, seals. Inter AX2 steel drain covers, 700mm
Wild flower seed roll mats, CV250. Qty various metal cattle gates
IT / Office Equipment
Sony ILCE-75 digital camera with lenses in carry case
Atomos ninja flame 4K recording screen in carry case
Tascam DR-60D MKII liner PCM recorder with equipment in carry case
Griffin 10 station USB mobile charging stations
Jieyan / Neewer camera tripods
Time2 TP1060J 10" tablets with cases. Mobile phones.
Konftel 300WX telephone conference system
Cisco Meraki MR42 wireless indoor access points
Asus chrome box thin clients, Kramer Viv go client
Canon C2551 image runner advance printers touchscreen
Qty various LG, HP, Dell, Ilyama, Asus, Benq, Epson etc monitors, laptops, projectors.
Mobile server racks, network cabinets
LG 49UW76TH LCD TV. Samsung HE32EE590 LCD TV
Viprinet multichannel PVN router
2x manual & 2x electric maple 1400x800mm adjustable height desks (2017)
Free-standing wire cage / mesh lockers, 24x12x72"
Qty various 4-seater canteen tables
Changing room benches / coat racks
Surgery Equipment
Black leather effect white frame surgery beds
Seca manual height gauge.
Lion 500 alcohol meter with printer in carry case. Casella CEL-63X audiometer
Rion ML-32 sound level meter in carry case. Cirrus CR-252B sound level meter
Alcohmate premium breath alcohol tester in carry case
Casella Tuff IS personnel air sampler. Keystone VS2 vision screener
Reactec Analytics platform, HAV Wear devices, docking station, straps, etc
Relequip evacuation chair
Qty orange plastic rescue stretchers, FDA basket, 272kg cap.