3x tip side & face milling cutters to 14" dia appr...
This item was sold in one of our on-line Auctions / Sales. We may have similar items available in our forthcoming Auctions, or if you have equipment to sell please contact us for free valuations, advice etc - Tel: 01778 590111 / Email: info@ppauctions.com or please get in touch with us via our contact page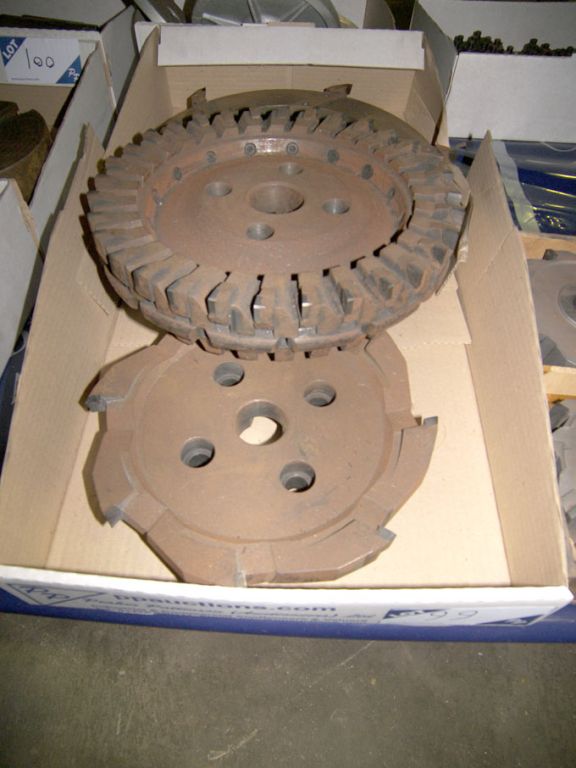 Description
3x tip side & face milling cutters to 14" dia approx
Auction - December Collective Sale
BAE Systems, AgustaWestland, Cobham, Caparo & others:-
Machine Tools inc: Gioria RU/P1500 Grinder, Okuma LB15II CNC, Sunnen CV616H Hone, Kasto VBU240A Saw, Junger Maskin Tool & Cutter Grinder, Myford Super 7 Lathe, Drills, Tapping Machine, Polishers, Grinders, Saws, Tube Bender, Hardness Tester, Small Tooling, Inspection Equipment, etc.
Sheet Metal / Welding Inc: Eckold KF665 Kraftformer, 2x Schlatter Spot Welder, 2x Nederman N24 Fume Extraction (2004), Schmalz Plate Lifter, Pipe Threader, 2x Flypress, 20x (approx) Fronius / Miller / Murex / ESAB / BOC / Cigweld / CEM etc Welders, CI Surface Tables, etc.
Lifting / Vehicles / Plant inc: Jungheinrich Reach Truck (2003), Stenhoj 4 Post Vehicle Lift, Stenhoj Hydraulic Floor Jack (2006), Zoller Kiel HD Rolling Road, Qty Kone Crane Rails, Swing Jibs, Electric / Manual Chain Hoists, Nissan Navara Pick Up (07 reg), Mitsubishi Shogun (06 reg), Ford Focus C-Max (54 reg), Ford Focus Zetec S (02 reg), Ford Luton Tail Lift Box Van, Lister Petter 15kva Towable Diesel Generator, Trojan Diesel Generator, Karcher Pressure Washer, AP WK440 1/s Chiller Unit (2000), etc.
Miscellaneous inc: Tilghman Wheelabrator Shot Blast (Located - Beeston), Gandossi Rotary Paper Creaser, ABB Robot, F&J Williams Rotary Degasser, Wild Leitz Vacuum Table Cutting Machine, 2x Garage Press, Mil-Tek Compactor, Loveshaw Little David Tapping Machine, Gordian Strapping Machine, Benco Engine Turnover Fixture, Essemtec Reflow System, Qty Stillages, Tipping Skips, Plastic Storage Bins, Interlocking Rubber Mats, Motors, Steel Stock, Consumables, Safety Lights, Storage Cabinets, etc.