Omec F11 TS automatic dovetailer, Weintek touch sc...
This item was sold in one of our on-line Auctions / Sales. We may have similar items available in our forthcoming Auctions, or if you have equipment to sell please contact us for free valuations, advice etc - Tel: 01778 590111 / Email: info@ppauctions.com or please get in touch with us via our contact page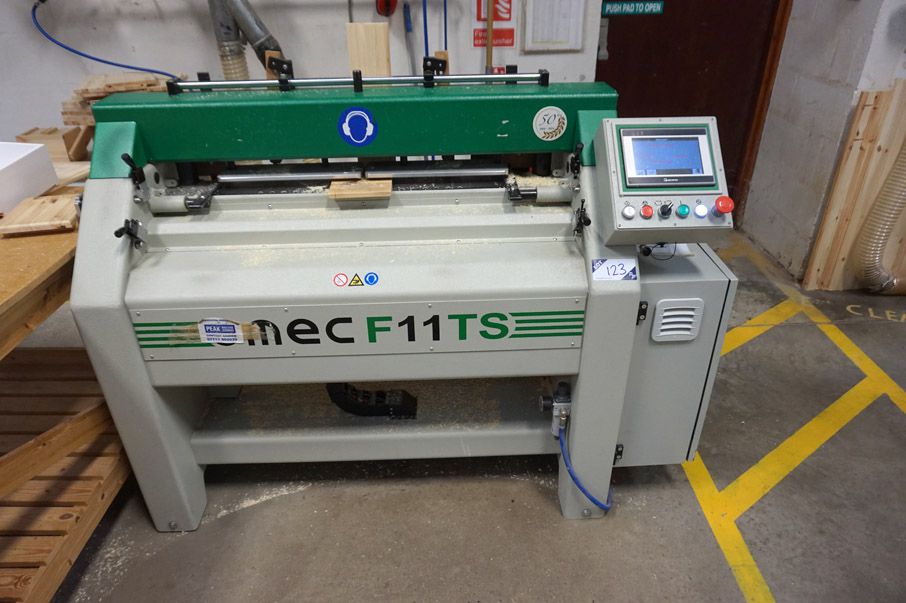 Description
Omec F11 TS automatic dovetailer, Weintek touch screen control (2014)
Auction - Devonshire Pine Ltd
High Quality Woodworking & Ancillary Equipment - due to the re-organisation of the manufacturing facility
Woodworking / Machine Tools
SCM Concept NT CNC double ended tenoner, B&R power panel control, 2600mm max working width (2011)
SCM Concept 2000 double end tenoner, 2500mm max working width, 150mm min working width, 6000x6500mm foot print (1997)
SCM Record 240 CNC router, NUM control, 5750x1550mm vacuum bed, 12 tool ATC (2001)
SCM Record 220 CNC router, NUM control, 3150x1200mm vacuum bed, 10 tool ATC (1997)
Weeke Optimat BP80 CNC machining centre, 144x30" bed, twin head (1998)
Weinig Powermat 700 automatic planer / moulder, 3400x240mm table (2015)
Wilson FY spindle moulder, 1140x330mm table, Comatic power feed unit, 3000-10000rpm
DMC Eurosand L-2 through feed sander, 1350mm wide (2011)
SCM Sandya 20 M3 110 through feed sander, 1110mm wide, controller (2002)
Knoevenagel SU-1 profile sander, 1000x340mm table
2x Volpato RCG1200 twin belt box sander, 350mm wide belt, 15kW, control (2006 & 2005)
Weinig Flexirip 5200 Jrioline rip saw, Proface touch screen control, 5200mm max cut length, 1000mm max width (2015)
Weinig Unicut P Dimter line saw, Opti Com Assist touch screen control, 9700mm full length table / support, 400mm wide blade (2015)
1400mm wide powered fladder, 0.75kW motor
SCM SI350 class panel saw, 350mm dia max blade, 3200x2100mm sliding table, 1800mm wide fixed table (2007)
Holytek BS-888 radial arm saw, 45 deg / 90 deg cut, 350mm dia blade (2008)
Wadkin BRA350 cross cut table saw, 5600mm wide table, measuring straight edge
Brevetti B84 mitre saw, 6 bar max pressure, 1500mm wide twin supports (retrofitted with DC brake) with Axminster UB-803 dust extraction, 2.2kW, 240v
Omec F11 TS automatic dovetailer, Weintek touch screen control (2014)
2x Omec F8 automatic dovetailers, 7.5kW (1998 & 2000)
SCM Startech 29 multi drill, 29 heads, 950x400mm table, foot control (2009) with AxminsterUB-803 dust extraction, 2.2kW, 240v
SCM Startech 23 multi head drill, 23 heads, 750x400mm bed, pneumatic clamp (2000)
3x Castle TSM-35 pocket router, foot control, 450x400mm table
11x various Lamont mobile pneumatic clamping systems, 1700x1000mm to 2400x1200mm work area, 63-80mm dia bore, 160mm max stroke
2x Makita LS1040 pull down chop saw, 1650W, 240v with Scheppach HD2P extraction unit, 240v (2015)
Axminster AWHBS400N vertical bandsaw, 535x485mm table, 380mm throat, 240v
2x Axminster AP3501B3 vertical band saw, 508x495mm table, 340mm throat, 240v with Jet DC-950A dust collector, 240v, 0.75kW (2010)
Tregarne model 4000 wood welder with adjustable timer, 240v
Tregarne wood welder, 240v, 0.5-20 sec timer with hand held weld gun
Blum mini press drilling / insertion machine, 3100x550mm table, 1.2kW (2002)
Blum mini press drilling / insertion machine, 3100x430mm table, 0.75kW with Ferall Eng extraction unit (1993)
Axminster HD16C single spindle pillar drill, 350mm dia RF table, 280-2300rpm (2002)
Strands (HM Machinery) S25 single spindle pillar drill, 500x350mm RF table, 105-2900rpm (2002)
Axminster WD16F single spindle pillar drill, 310mm dia RF table, 240v, 120-2580rpm (2006)
APTC CH/6 single spindle pillar drill, 310m dia RF table, 280-2300rpm, 240v (1995)
Qty soft wood stock (pine etc) - 30 lots approx
Qty various oak stock on pallets
Large Qty furniture consumables, knobs, handles, stool pads, storage baskets etc
Qty stock / furniture items inc: beds, extending tables, cabinets & Showa gloves etc.

Factory Plant / Miscellaneous
Danstoker Multi 15 3 track wood chip / biomass boiler, 110 degC max temp, 3400ltr capacity, 725kW, E200 controller in self contained building (2007)
Dust Pollution 5 + 2 chain filters / IMRU / 5 Regens extraction unit, s/n 5065 (1997) (5x upgraded Dust Pollution 45kW 4 pole fan units (2017))
Renault Premium 240DXi lorry, Hills Bodywork body, 6 speed, chassis cab, demountable body, 1000kg with tail lift, sleeper cab, add blue, remote central locking, digital taco, parrot hands free, 18000kg gross weight, 883,701kms, 09 reg (MOT exp 05/2020)
3x AirBench Vertex VA121218 modular cross draught system, 240v (2016)
2x Work Point Environments EX126584 air bench, 1200x600mm work area, filter replacement gauges (2008)
Rotopac Rotoplat 507.1PDS automatic pallet wrapper, 1650mm dia platform, 1.3kW, 240v (2012)
Hydrovane V45ACE08-40355300 rotary packaged compressor, 9 bar, 1480rpm, 45kW, 7144hrs (2010)
CompAir F110H compressor air dryer
Tennant 5400 push along battery floor cleaner / sweeper with CMP2100 battery charger (2005)
Qty Telemecanique Canalis KSA 10ED buzz bar, sockets, etc, 100A
Qty Still etc high lift manual pallet trucks, 1000kg capacity
2x Busch Mink MM1202AV vacuum pumps, 3000rpm
Qty various racking, workbenches, tables, hand tools, trolleys, etc

Paint Equipment
5x free standing paint booths, 3200x2300mm aperture, 2200mm deep, extraction, flues etc
12000x6000mm self contained modular paint room, twin doors, 3x internal paint booths with extraction & filters etc
3 section paint booth, 3800x2500mm aperture per section with triple filter / extraction
Qty various Graco, Husky, Wagner paint spray pumps, Graco Merkus paint systems etc.