Qty Atlas Copco etc pneumatic drills etc - Located...
This item was sold in one of our on-line Auctions / Sales. We may have similar items available in our forthcoming Auctions, or if you have equipment to sell please contact us for free valuations, advice etc - Tel: 01778 590111 / Email: info@ppauctions.com or please get in touch with us via our contact page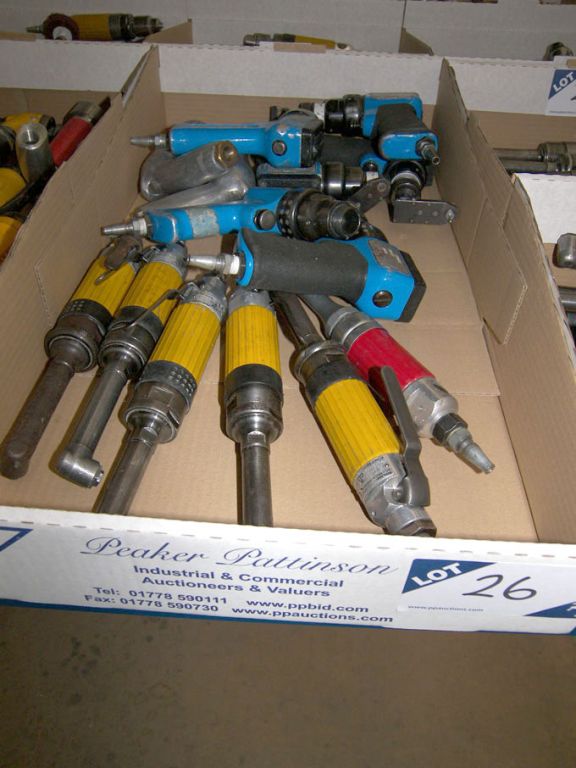 Description
Qty Atlas Copco etc pneumatic drills etc - Located at: BAE Systems - Woodford
Auction - BAE Systems - 3 UK Sites
Inspection / Laboratory / Electronics: Reaves Industrial Furnace EA27/45 auto clave. Philips XL 30 CP scatter electron microscope (1997). Mayes ESHE 250 hydraulic tensile tester. Taylor Hobson scope. Perkin Elmer 8500 2 channel gas chromatograph. Gardner Haze-Gard Plus glass / film transparency machine (1994). Solartron Schlumberger 1250 frequency response analyser. Criterion Hiac PC-320 particle size analyser. Hiac ABS-6 automatic bottle sampler. Stanhope Seta flash unit. Westronics Series 3000 chart recorder. Aeroform hot bond unit. Dowding Mills 2400x1200mm grade 1, 1200x900mm & 600x600mm granite surface tables. Trimos vertical 3 digital height gauge etc. 3x Montford & 1x Unitemp environmental chambers.
Machine Tools / Sheet Metal / Welding: Richmond SR2 radial arm drill. Qty small tooling inc: machine vices, cubes, CI angle plates etc. Bulldog / Walton HFM50-16G manual folder. Clarke StrongArm CCB2 manual tube bender. 2x Miller, 1x Cemont & 1x Lisg welders. Inspection equipment etc.
Factory Plant / Miscellaneous: Leyland DAF 2700AT Runway Sweeper. Land Rover 110 Defender, 2.5turbo diesel estate. 2x Nederman filterbox fume extraction unit (2006). Nederman wall type extraction unit. Bux mag drill 110v. Clarke Strong-Arm CT5-500 transmission jack. Pelloby mobile hydraulic hoist. Enerpac hydraulic power packs. Qty canteen tables & chairs etc. Qty pneumatic tools, torque wrenches, industrial hoovers, hoses etc 4x Raper full size slate bed snooker tables.