3x Varian LDM 1904 / 1903 stereo sound in sync dec...
This item was sold in one of our on-line Auctions / Sales. We may have similar items available in our forthcoming Auctions, or if you have equipment to sell please contact us for free valuations, advice etc - Tel: 01778 590111 / Email: info@ppauctions.com or please get in touch with us via our contact page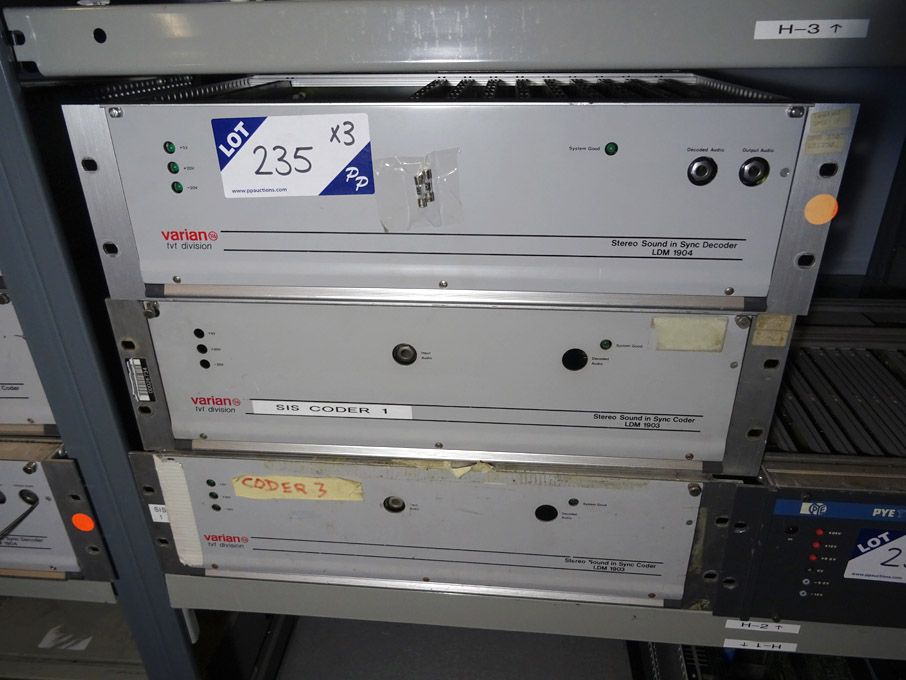 Description
3x Varian LDM 1904 / 1903 stereo sound in sync decoder - Located at: BBC Wales - Cardiff.
Auction - BBC - Cardiff (Phase 2)
Equipment located at BBC Wales - Cardiff (over 750 lots)
Soundcraft Spirit Folio 10 channel stereo mixer
Soundcraft Spirit Folio F1 Fader 100 16 channel stereo mixer
Ross Video Ltd Synergy Series digital production switches
Rack frame with Synergy 3 digital production switches (2004)
2x Sonifex HY-02 ISDN telephone hybrids
2x Fostex CR500 CD-DA / BWF master recorders
Dolby Laboratories SDU4, SEU4 surround encoder units
Rostec ASD8V reference generator
Omniphonics Pre 1 rack mounted pre amplifier
3x Denon DN-961FA professional CD players
Evertz 4900 video character generator
MDO UK Audio STL-IP network link
Philips LDK 4210 sync pulse generator
ASC 7-47-7 Senior Workstation buddy
Denon DN-1100R MD recorder
Marantz PM4400 integrated amplifier
2x Quad 521F power amplifiers
Audio Developments AD261 stereo location audio mixer
Qty various Sony, Sanyo, Technics, Humax etc. amplifiers, tuners, DVD players, Freeview boxes etc.
Sony MDS-E12 MD recorder
3x CCS CDQ Prima 120, 110 20KHz bi-directional codecs
Audio & Design F601-RS Superdynamic limiter
2x Genter TS612 ISDN telephone broadcast systems
2x Eyeheight Uni Panels
Raycom RTB 3211 full duplex base station
2x Denon TU-260LII precision AM-FM stereo tuners
Canford Pro-interface, Alice MatchPak HF pro interface unit
Qty 1U fan units
Harman AVR 260 receiver
Adder Smartview 2X Pro KVM Switch
2x Total Systems The Studio pre-amplifier
Lexicam Vortex audio morphing processor
Tascam MH-40 MkII headphone amplifier
Sony MSW-M2000P digital video cassette recorder
Drawmer DL241 dual auto compressor
Drawmer Six-Pack multi-channel surround dynamics
Drawmer MX30 dual gated compressor limiter
Ultra Pro MX882 ultra flexible 8 channel splitter / mixer
2x Glensound Q59
JVC BR-6600E stereo video cassette recorder
2x T.C Electronics TC1280 stereo digital audio delay in storage cases
Canford BA100 diecast loudspeakers
Qty Rogers, Harbeth LS3 / 5A monitor loudspeakers
Qty Rogers LS5 / 8 monitoring loudspeakers
2x Rogers LS5 / a monitor loudspeakers
2x Gale Gold loudspeakers
Pro-Bel TX master control
HH V200 Mos-Fet high performance power amplifier
BBC Master Series computer
TMC 1705 Linesman telephone
GW Instek GSP-827 2.7GHz spectrum analyser
2x Quad 303AZ power amplifiers
Rohde & Schwarz VHF field strength indicator
Fora VPS-4000 video production system
Evertz Topaz analog audio router
Sony DME-3000 digital multi effects
Doremi V1D random access digital video recorder / player
Tascam MX-2424 professional 24 track multitrack recorder
Sony DVS-6000 production switcher
Hamlet Digiscope 601
Qty various HP, Panasonic laserjet printers, fax machines
Qty various Sony, JVC CRT studio monitors to 19"
AKG D222, Beyer Dynamic M58N microphones
Sony DCR-TRV330E digital video camera recorder
Tascam MD-801R MD recorder
Tascam MD-301 MkII MD recorder
APT World Cast Horizon
Qty Sony DXC-D30WSP digital video cameras
2x Sony digital HD video cassette recorders
Sony DSR-1500AP digital video cassette recorde
3x Sony J-30 SDI, J-3 compact players
Sony DSR-11 digital video cassette recorder
Qty various flight storage cases
Kardex SYS-120-1411-06 vertical storage carousel, 150kg per carrier, 2100kg total load (1997)
Kardex LT-110E-14112 vertical storage carousel, 1400kg total load, 100kg per shelf
Sony PCM-7030 digital audio recorder
Prospect AMM10 mix monitor unit
Studer reel to reel tape machines
2x Sony UVW-1800P Betacam SP video cassette recorders
Sony DSR-60P DVCAM digital video cassette recorder
Sony Digital Betacam DVW-522P digital video cassette player
2x Sony DNW-A22P Betacam SP digital video cassette players
Sony DNW-A22P digital video cassette player
Varian LDM 1904 stereo Sound in Sync decoders
Eyeheight Uni-Panel
Qty various Sony, Maxell, Fuji etc. video tapes
Acer base units
Sony MKS-8010A system control unit
Otari CB-178 remote control unit
Tascam MD-301 MkII digital mini disc players
Tascam MD-801R digital mini disc player
Spirit Folio RW1451 mixer
Soundcraft mixer
Sony HDV 1080i HD camera recorder, HVR-Z1E
Video camera spares inc: batteries, lights, tripods, lenses, cables etc.
Large Qty Dell, Foundry Networks, HP etc. servers, media clients, network switches, LCD monitors etc
Thomson viewfinders, Melford
CCs Prima LT 20KHz stereo bi-directional codec
2x Grass Valley News Edit motorised fader controller / jog shuttle controllers
3x Pro-Bel 6506 TM routing switchers,11x Pro-Bel 6063 signal distribution chassis
Pro-Bel 2625 signal distribution chassis
7x Trilogy 100 chassis inc various plug in cards
2x Axon Digital Design ARC 2000 aspect ratio converters
4x Mitel Superset 700 telephone consoles
Softel SE3052 teletext subtitling generator
Quartz router
Eela Audio S120-VCA mixer panel
Fujinon A20X7 & Fujinon A18X8 camera lenses in storage cases, etc, etc.
Stenhoj Autolift 0992111.325 electric car lift, max 3200kg, DK-7150 (2004) (dismantled)

Over 400 lots located for convenience of sale at PP Saleroom.
Qty electronic test equipment inc: HP 89441A vector signal analyser, HP 8558B spectrum analyser, Anritsu MG3633A signal generator, HP 8662A synthesized signal generator, Tektronix 2232, 2245, 2245A, Iwatsu SS-7840, LA314, 9354TM HP 54645D oscilloscopes. Tektronix 1502B metallic TDR cable tester, Tektronix VM700A video measurement. Philips 6671 high resolution counter. 2x Rohde & Schwarz digital video component analyser, 2x Rohde & Schwarz digital video quality analyser, 4x Rohde & Schwarz MPEG2 measurement decoder. Farnell & Coutant PSU's, etc.
Qty broadcasting equipment inc: Nevion TV-C Plus decoder. BT DVTD-200 MPEG2 decoder. DVB receiver. Matra Communication D6002 DVB-PI adaptor. GML MTG205 Pal multitest signal generator. Leitch AB2ETYP alphanumeric breakaway. Leitch ADC-5108 slave studio clock. Sony DCR-TRV950E digital video camera. Nikon S13x9B1-EMS-20 lens. Sony BVP-7AP/U colour video camera. Aten Masterview Plus KVM switch. Focusrite Saffire PRO40 sound card. Yamaha DEQ5 digital equaliser. Tascam DA-60 DAT cassette recorder. DCS ATM direct stream digital generator. Rapco 2804  GPS master clock. Sony BDX-D1000 MPEG decoder. Sony DCR-VX2000E digital video camera. Qty Rogers LS3/5A, Yamaha HS7 speakers. Yamaha O2R digital recording console. Soundcraft F16 audio mixer. Tascam M-06ST mixer. Philips MPEG2 receiver / decoder. Panasonic AJD850 & Sony DVR-1000 digital video cassette recorders. Unaohm EP318 field strength meter. AJA Corvid ultra video capture. Telestream Pipeline Dual HD encoders. 159x Nvidia NVS310 dual display graphic cards. MCU XTPro 8 channel universal control surface.Glensound GSNI 1 8 channel PPM. BEL 7000 Series delay synchroniser. Drawmer DS201 dual gate. Wohler LM26-32HR 32 channel audio meter. Leitch KL-86 mix box with PSU. Alesis AdatAI3 analogue – optical interface. Glensound GSGC6 twin ISDN TA / codec. Sony MEU-WX1 multiformat engine unit. CTP Systems Mix-24 line level meter. BSS TCS-804 dual time corrector. Klark-Teknik DN726 digital delay. Drawmer DC2476 digital mastering processor. Behringer FBQ1502 Ultragraph Pro graphic equaliser with FBQ feedback detection. Drawmer DL441 quad auto compressor limiter. Dega 7 input headphone mixer. Sonifex HY02 digital telephone balance unit. BEL Digital Audio A3 Series monitor. Shortcut SC-180-3 360 Systems audio editor. Canford splitter boxes / parallel boxes. Sennheiser HD580, HD201, HD497 headphones. Panasonic RP-WF820 wireless headphones & KS-TG2512 / KS-TG2511 telephones. Seaward PAT1000S PAT tester. Fostex TT-15 test tone oscillator. Enterasys Horizon VH-4802 Fast Ethernet switch. 2x Matthey UN180 video delays. Megahertz Colt-1100P colour bar generator. 2x Behringer Shark DSP110 feedback destroyer & programmable delay. Yamaha GQ2015A graphic equaliser. 100x Siemens Optipoint 420 Advance telephones, Autoscript equipment etc
Blackmagic ATEM 2 M/E production studio 4k with control unit. Blackmagic Hyperdeck studio. 3x Panasonic AJ-PX380G camera with lens, viewfinder, headsets etc in storage cases. 4x Panasonic AG-BS300E base stations with Panasonic AG-EC4 camera control units.
Qty Arri, Colortron etc studio lights. Strand ACT6 digital 6 channel dimmer panels. E-Image tripods, storage cases etc.
Qty various LG, Sony, Dell, IIyama etc colour LCD, Plasma, LED monitors / TV's to 46"
Qty various Apple Macbook Pro, mini macs, PC base units, servers etc.
2x Mountain Industrial Nissan Navara Tonneau pickup metal cover, lockable (boxed & unused)