Clarke 4" bench vice & Irwin 3" bench vice
This item was sold in one of our on-line Auctions / Sales. We may have similar items available in our forthcoming Auctions, or if you have equipment to sell please contact us for free valuations, advice etc - Tel: 01778 590111 / Email: info@ppauctions.com or please get in touch with us via our contact page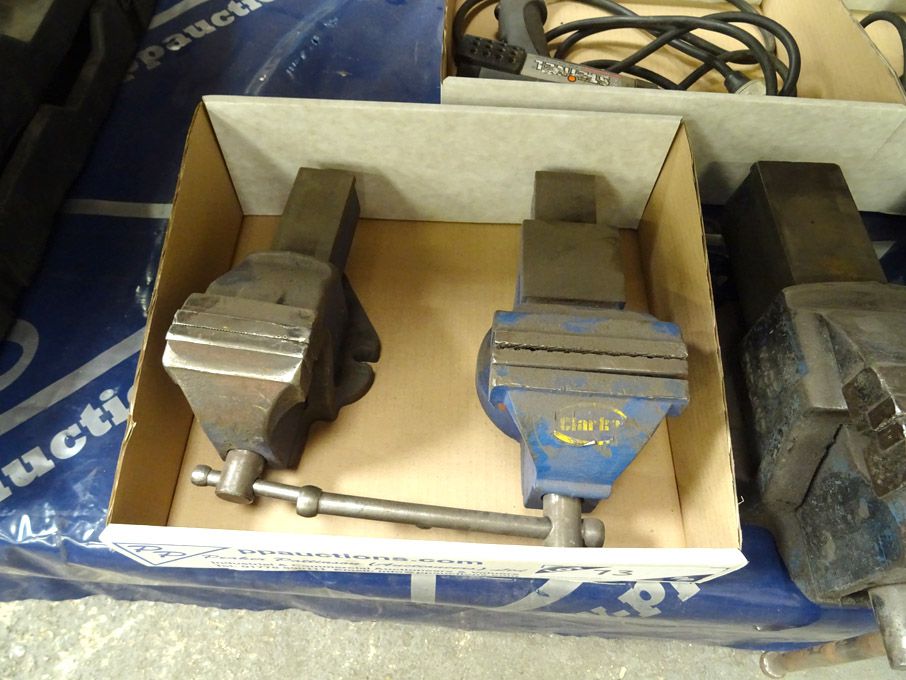 Description
Clarke 4" bench vice & Irwin 3" bench vice
Auction - Marine & General Services Ltd
Over 300 Lots:-
Machine Tools / Inspection
Aciera single spindle bench drill, 400x350mm table, 175-5000rpm
Mecof 35C radial arm drill, 1200mm arm, 182-1460rpm, 650x400mm box table
Bridgeport Series 1.2HP turret mill, 42x9" table, Heidenhain DRO, 50-3750rpm, shaping head & equipment
XYZ 1550 gap bed lathe, 200mm CH x 1300mm b.c., 25-2000rpm, Newall DRO with equipment (2008)
Rusch horizontal bandsaw, 180mm clamp
Qty small tooling, inspection equipment inc: drills, end mills, slot drills, taps, dies, bench vices, machine vices, rotary tables, dividing heads, collets, letter / number stamps, CI angle plates, CI cubes, drill chucks, sleeves, height gauges, micrometers depth micrometers etc
Unitemp laboratory oven, 1000W, 390x440x360mm ID
Sheet Metal / Welding
SMT hydraulic guillotine, 1/2" x 10ft capacity, back gauge, front supports
Edwards Truefold 1250mm box & pan folder
Geka Hydracrop 80/A metal worker with tooling & equipment (2006)
Clarke Strong-Arm 10 ton garage press, adjustable height
RPA BM60A Multi-48 MultiForm tube bender (2012)
ProArc CB-100-12 welding manipulator, 300mm dia face plate on stand
WWS pipe cutting machine, 300mm capacity
Orbitalum GF6 orbital pipe cutter with table (2015)
Ridgid 1224 pipe threader with equipment on pallet
Similar 110v pipe threader on stand, 3" capacity
Norton hydraulic press, 600x460mm bed
4x Mewaho 10A groove locking machines (2002)
TRW Nelson 850 stud welder, 850A. HBS ARC 650 stud welder
Koike IK-12 Max-3 oxy burner. Murex Transtig water cooler
Migatronic Delta 160 DC HP tig welder, 10-160A output, 8kva max power
4x Inverter Fusion 200HF portable tig welders with equipment
Migatronic Tig Navigator 320 DC tig welder, 320A
Kemppi Master 2850 tig welder, 280A on trolley
3x Esab Aristomig 400 mig welders, 400A with AristoFeed 30 wire feed unit
2x Migatronic Omega 400 mig welders, 400A with Migatronic MWF27 wire feed, water cooled (2015)
Migatronic Omega 400 mig welder, 400A, water cooled (2015)
Migatronic Omega 400 mig welder, 400A
Migatronic Omega 300 mig welder, 300A (2014)
Thermal Dynamics Cutmaster 12+ plasma cutting system, 25mm capacity with equipment (2012)
Victor Thermal Dynamics 25mm Cutmaster plasma cutter
Murex 333 AC / DC welding set, 250A, 26.6kva
Mitre welding rod oven, 1500W, 460x460x500mm ID & similar smaller rod heater, 240v.
Qty various size welding tables, welding screens, bar benders, bottle trolley, wire, clamps, burners, cables, guns etc
Electac E1 portable fume extraction, 750W, 240v
Factory Plant / Miscellaneous
Lansing Linde H30D diesel forklift truck, container triple mast, 3000kg capacity (1995)
Able 2 ton SWL overhead crane with Able electric chain hoist, pendant control, 18x6m approx
Rogers 1000kg overhead gantry crane with Demag electric chain hoist, pendant control, 18x4m approx span
Mobile 'A' frame with Demag electric chain hoist, 3000mm wide x 3800mm high
Floor mounted swing jib, 3000mm approx span with Demag 250kg electric chain hoist, pendant control
2x Able 2500kg manual pallet trucks (2014). 20ft shipping container, twin doors (2010)
Atlas Copco GA.5 compressor on receiver, 7.5 bar max, 5.5kW (1994) with MTA Deitech dryer
Ford Transit Connect Van, T200L diesel, 1753CC, 5 speed, manual, white, 103,000miles, MOT December 2018, 07reg
Mercedes Sprinter 2 axle rigid body van, 2143CC diesel engine, 6 speed manual gearbox, manual,
48,500miles, MOT October 2018, 62reg
Tiger 8/44 Turbo compressor on air receiver, 1.5kW, 240v. Titan Epic 440HP airless paint sprayer
Containerised Heating Plant (2011) inc: Hamworthy Melbury 800kW dual fuel boiler, Hamworthy 250kW gas boiler, Grundfos variable speed heating pumps, pressurisation unit, gas booster, etc
Qty 110v / 240v / pneumatic etc angle grinders, impact wrenches, drills heat guns, orbital sander, torches, power files, mag drills, jigsaw, pull down chop saws, extension leads, transformers, lights etc
Qty Stahl Wille, Record, Carver, Draper etc socket sets, cable crimper, G clamps, bearing puller, bar sets, hammers, spanners, tape reels, screwdrivers, pipe cutters, hydraulic crimpers etc
Qty lifting equipment inc: Donati, Demag, Liftio, Clarke, Yale etc machine skates, toe jacks, electric chain hoists, plate lifters, lever hoists, hydraulic power units, safety harnesses etc (to 2014)
Qty various lockable storage boxes, workbenches, tables, multidrawer cabinets, racking, storage cupboards, office furniture, factory heaters, pumps, marine spares, banding equipment, pipe stands, steps, ladders etc
Large Qty maintenance / factory / electrical spares inc: hoses, retractable air line, Nederman fan unit, carbon steel flanges & fittings, s/s screw fittings, PVC fittings, valves, gaskets, nuts, bolts, washers, U-bolts, jubilee clips, brass pipe fittings, sockets, boxes, fuses, lights, glands, cable markers, stickers, tape,
BPS Access Solutions mobile scaffold tower with platforms
Megger MFT 1552 multi-function tester in carry case. Robin IR80 portable appliance tester
Skytronic adjustable DC power supply, 0-10A, 0-30v. Master Volt Mass 24/25 automatic battery charger.
Henry HVR 200A vacuum cleaner, 240v. Clarke Strong-Arm mobile hydraulic lift platform, 850x500mm
Leica Lino L360 laser level with tripod & measuring pole