Keithley 230 programmable voltage source
This item was sold in one of our on-line Auctions / Sales. We may have similar items available in our forthcoming Auctions, or if you have equipment to sell please contact us for free valuations, advice etc - Tel: 01778 590111 / Email: info@ppauctions.com or please get in touch with us via our contact page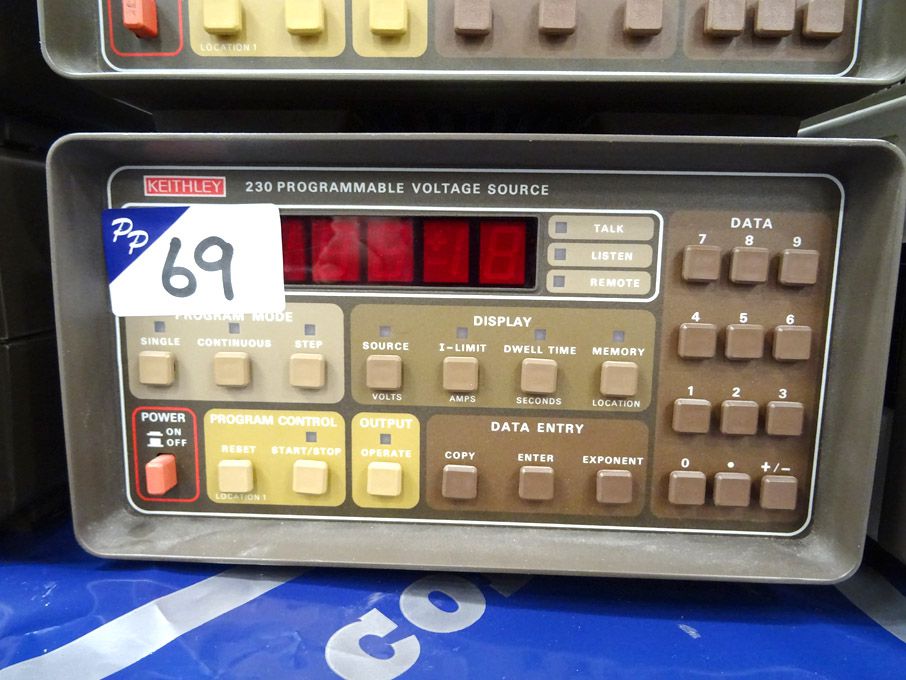 Description
Keithley 230 programmable voltage source
Auction - Philips Research UK
Over 350 lots of high precision equipment used in the Scientific / Research Industries including:

Electronic / Laboratory
Design Environmental Ltd FS220 environmental chamber, -20degC to 160degC, 10% to 90% humidity, 600x550x600mm ID (2000)
Leica TCS SP5 II confocal microscope system complete with CTR6500 component, EL6000 shutter controller, monitor, control (2011)
Nikon Eclipse TE2000-U inverted research stereo microscope
Wild Heerbrugg M400 stereo microscope & camera
Reichert Polyvar MET Microscope & camera
3x Vision Engineering Biomed DX61 routine inverted microscopes
Leitz Laborlux 12HL stereo microscope
2x Schott KL1500T light sources
Edwards 450W vacuum pump
Thermo KS18 Herasafe safety cabinet, 1800x780x627mm working area, 2kW (2006)
2x Kottermann 2-453-DANB safety / extraction cabinets, 900x700x1000mm, AFA100 VAV controller (2008)
Kottermann flammable twin door storage cabinet, 900x600x1950mm (2008)
Qty Kottermann laboratory modular work stations, pedestal units, drawers, built in taps & electrics etc (2008)
9x Kaymar straight / corner electronic work stations, adjustable height with built in sockets
2x Rodwell Monarch 50 Autoclave, MP25 control, 50ltr capacity
Millport Elix Essential 3UV water purification system with auto sanitisation module (2008)
Millipore Milli-Q Advantage A-10 water purification system (2008)
CLAIND N2LCMS nitrogen generator (2008)
Carbolite LHT6/60 electric laboratory oven, 400x380mm shelf size, 600degC max temp
Photon Control 1800x1200mm vibratory laser table
Park Scientific Auto Probe
Autolab potentiostat galvanostat
Misonix Sonicator S-4000 ultrasonic liquid processor
Thermo Electro Corporation HELIOS Gamma UV-Vis Spectrophotometer
Guava EasyCyte mini system cytometer (2007)
Hettich Universal 320 type 1401 desktop centrifuge (2006)
Thermoscientific Komet Cimarec i Poly 15 multipoint stirrer
Leibherr Proline twin stainless steel freezer, 1427ltr
Scotsman AF80 ice cube maker
Biotek EL800 microplate reader
2x New Brunswick Scientific Galaxy 48S model CO-485230 incubators
2x Sartorius Steadman Certomat IS incubator
Gilson pipette holder & Qty various HTL etc laboratory pipettes
Qty various electrical cables, leads, probes etc
Kern EG digital scales
Sartorius universal digital scales
2x Fisher Scientific FBIS001B heating magnetic stirrer
Hannah Instruments PH210 microprocessor pH meter
Panasonic DU-AA01 bacterial counter
Fisherbrand FB60301 chemical hot water bath
Alkapharm A060HL ultrasonic cleaner, 250x160x260mm, 120W
Ika Vibrox VXR basic mini orbital shaker
Stuart SSM1 mini orbital shaker
2x Stuart SB3 rotators, etc, etc.

Electronic Test Equipment
Over 100 lots including:
HP ESA-L1500A spectrum analyser, 9kHz - 1.5GHz
HP ESG-2000A signal generator, 250kHz - 2000MHz
Lecroy Waverunner LT584 1GHz oscilloscope
Philips PM3392 200MHz oscilloscopes
Philips PM3384A autoranging combiscope
Agilent 5464D 500MHz mixed signal oscilloscope
Philips PM3585 200MHz logic analyser
HP 33120A 15MHz & Agilent 33250A 80MHz function / arbitrary waveform generators
Agilent E3620A dual output DC power supply
Qty Philips, Farnell, TTi etc power supply units
HP 4261A LCR meter
Gould 9452 precision AC amplifier
Keithley 220 programmable current source
HP 347A multimeter
Keithley 617 programmable electrometer
Yokogawa DL1740 500MHz bus analyser
HP4140B PA meter / DC voltage source
HP4275A multi-frequency LCR meter, multimeters, thermometers etc, etc.

Workshop / Miscellaneous
Atlas Copco SF1FF rotary packaged compressor, 4.4CFM, 1.5kW, 7213hrs (2013) with air receiver
Denco T-Range U12AG air conditioning unit with DCRA 21-6 air cooler condenser (2009)
Edmo Lift WP80 electric lifter, 80kg SWL, built in charger (1997)
Cuprum 740-08E 7 step fibreglass step ladder
Qty Welconstruct grey / blue metal personnel lockers
Qty Bott grey / blue metal 3 drawer & cupboard storage cabinets
Lista multi drawer storage cabinet
Bisley multi drawer storage cabinet
Numatic industrial vacuum cleaner
Filtronic MI-Gas 70 gas & smoke cleaner
Bosch PAS1000 industrial cleaner
Qty Compaq etc full height server racks
2x Desa AC12410EH portable AC units
Storage racking / workbenches etc
Qty various technical books, manuals, Britannica encyclopaedia etc, etc.

Office / Kitchen
11x Howe 1600x800mm maple foldable meeting tables, 1600x800mm with Qty Allsteel black metal framed upholstered meeting chairs on castors (2008)
3x Ahrend maple 3000x1800mm curved 4 section meeting table (2008)
Qty Allsteel black metal framed upholstered meeting chairs on castors (2008)
6x metal framed red upholstered meeting chairs
Qty blue upholstered swivel chairs, tables
9x Ahrend maple 4 seater workstations, 1800x900mm, upholstered office chairs & screens (2008)
4x Ahrend maple 3 seater workstations, 1800x900mm, upholstered chairs, pedestal units (2008)
Qty various size Ahrend twin sliding door storage cupboards (2008)
Qty various Ahrend etc hot desks, pedestal units, cupboards, tables, chairs etc
8x Boss blue / red upholstered reception chairs
Qty metal framed upholstered gold / red reception chairs
Qty various glass office partitioning, 2900x900mm panel size, single glazed & 2100x900mm glass doors
Qty various Nobo whiteboards, flip charts etc
Qty various office planters with various real / artificial plants
Phoenix FS0430 Series firefighter safe, key pad
Similar safe with key pad & key lock
Cathedral RX2009 wall type safe, keypad
5x white Ahrend Revolt 1200mm dia canteen tables with Qty white metal framed / plastic chairs
Kitchen area inc: black high gloss cabinets, sink, 2x Hotpoint dishwashers, AEG Santo refrigerator & 2x stainless steel microwave, etc, etc.