8x Record etc G clamps to 6"
This item was sold in one of our on-line Auctions / Sales. We may have similar items available in our forthcoming Auctions, or if you have equipment to sell please contact us for free valuations, advice etc - Tel: 01778 590111 / Email: info@ppauctions.com or please get in touch with us via our contact page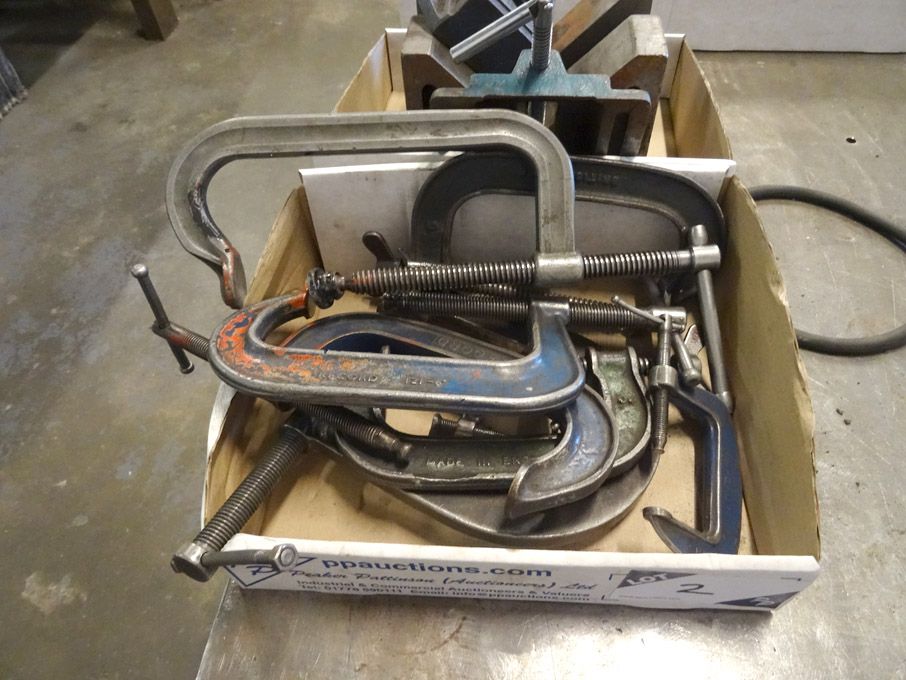 Description
8x Record etc G clamps to 6"
Auction - Houghton Design Services Ltd
Sheet Metal / Welding
Safan type SK80x2550 hydraulic down stroking pressbrake, 80 tonne x 2550mm x 6mm capacity with Qty Tooling
Adira model GHR0630 down stroking guillotine, 3080mm x 6.5mm capacity, 294kN rating, 38-92mm stroke, 15kW, Elgo 87P programmable power back gauge, spare blade (1999)
Manual heavy duty initial pinch bending rolls, 1300mm capacity, 100mm dia rolls
Kemppi RA230 mig welder with FU10 wire feed unit
Kempi Mini System MTLG MP1500 mig welding unit
Pair 250mm dia welding rotators
2510x1265mm metal welding table. 2500x1260mm welding bench with Record vice
2500x1250mm welding bench. Denbigh No4 flypress on stand

Miscellaneous
Fiat Ducato Maxi 160 Multijet flat bed van with HMF Handy 260 Hiab, HMF RCI5100 control, Tax Dec 2014, 58reg
Solberga SE725 heavy duty pillar drill (swivel head), 50-1200rpm
Imet model BS280/60 ECO horizontal mitre cut bandsaw on base with coolant, 280mm capacity
Alfra metal cutting saw, 355mm dia blade, 1300rpm, 110v (2005)
Rexon EBG-150 double ended bench grinder, 150mm dia, 2850rpm, 240v
Stamford Electrical type B double ended polisher, 2800rpm, 2HP
Draper GHD200 double ended bench grinder, 3000rpm
Draper BDS368 belt & disc sander, 100mm wide belt, 200mm dia disc, 2850rpm (1992)
Qty power tools inc: Hitatchi 110v angle grinder. Bosch GWS8-115 angle grinder, 110v. 110v transformer. Power Devil PDD2000CR electric hammer drill. Nu Tool NPT14 14.4v battery drill with charger in case. Makita DA392D 14.4v battery angle drill. Evolution ME3500V2 mag drill, 1200W, 35mm max capacity, 110v in carry case.
Draper 10" circular saw bench. Record DM1/24 wood lathe on bench with tooling.
Qty various bar stock inc: steel, stainless steel etc round, tube, box section etc
Clarke Devil 6009 fan heater, 9kW
Kennedy KEN-503-5820K bottle jack, 2 ton capacity
1280x620x700mm mobile tool box. 1200x800mm CI 'T' slotted work table
2 bays light duty storage racking, multishelf, 1850x780mm bay size
Qty Nippy etc vices, G clamps, sash clamps, heaters, extension leads etc
10 step aluminium safety steps.