Starrett 48x36" granite surface table
This item was sold in one of our on-line Auctions / Sales. We may have similar items available in our forthcoming Auctions, or if you have equipment to sell please contact us for free valuations, advice etc - Tel: 01778 590111 / Email: info@ppauctions.com or please get in touch with us via our contact page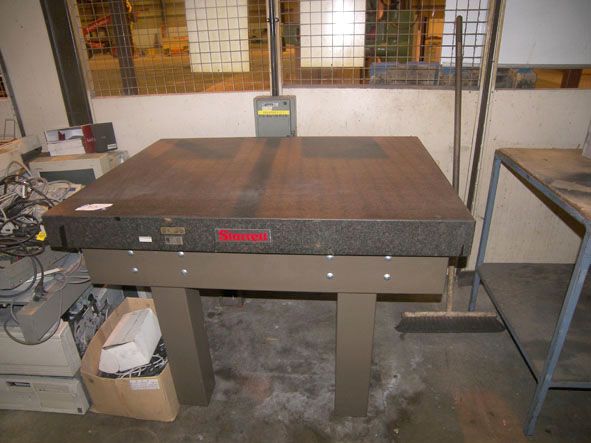 Description
Starrett 48x36" granite surface table
Auction - Indesit Company UK Ltd
Final site clearance auction due to the successful sale of the complete washing machine manufacturing facility.
Machine Tools / Inspection: Svensson Lagan SV00110 tool splitter (2000), Beaver CNC vertical milling machine, Asquith ODI radial arm drill, flypress, grinder, Qty small tooling inc: vices, rotary tables, drills, end mills, slot drills, dividing heads, CI cubes, angle plates etc.
Kemco CMM, Sartorius & Avery digital scales, Baty SM20E profile projector, etc.
Factory / Mobile Plant: Wilcomatic Monarch 2000 curtain sided lorry wash, Pelloby semi goliath crane, 4 pillar gantry with hoist, Nilfisk BR1100S electric ride-on floor sweeper (2006), Qty BT & Lansing electric trucks / buggies, pallet trucks, 40ft metal containers, stillages, etc.
Miscellaneous: Constructor Group vertical storage carousel, Clark Strong Arm mobile engine hoist (2010), Scaglia Liftronic Easy floor mounted manipulator, ABBOTT air receiver, Qty Nilfisk etc hoovers, Qty metal work tables, cupboards, tables, CI surface plates, granite surface plates etc, Qty maintenance spares inc: electrical / mechanical nuts, bolts, contractors, pumps, motors, lights, bulbs, bearings, belts etc, Qty office furniture inc: boardroom suite, storage cupboards, meeting tables, computer workstations, chairs, Panasonic white board, metal lockers, etc.
Located at Indesit - Peterbrough (Viewing by Appointment only): 2x Braby aluminium 5754 plastic granule storage tanks (2004). 2x Joseph Ash 45000ltr cap vertical storage tanks with pumps & controller, 7.6m high x 2.75m dia (2001).