ESAB LTG350 portable welder, 350A - Located at BAE...
This item was sold in one of our on-line Auctions / Sales. We may have similar items available in our forthcoming Auctions, or if you have equipment to sell please contact us for free valuations, advice etc - Tel: 01778 590111 / Email: info@ppauctions.com or please get in touch with us via our contact page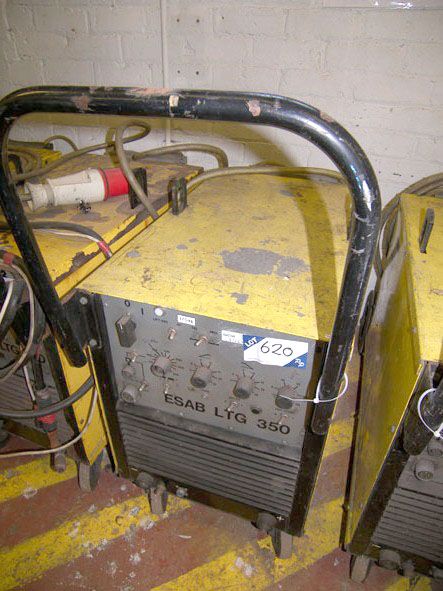 Description
ESAB LTG350 portable welder, 350A - Located at BAE Systems - Barrow-in-Furness
Auction - May Aerospace Collective
BAE Systems, Selex Galileo, AgustaWestland & others:
Machine Tools / Small Tooling: Okuma LB15II CNC lathe (1996), Herbert & Corona 4 spindle drills, Gioria RU/P1500 external grinder, Jones & Shipman 540P & Cincinnati surface grinders, Wadkin vertical router, Thomas / Startrite / Meddings / Kasto bandsaws & hacksaw, Drills, D/E Grinders, Polishers, Myford Super 7 model makers lathe, Qty small tooling inc: vices, chucks, dividing heads, rotary tables, CI angle plates, drills, taps, dies, etc.
Sheet Metal / Welding: 2x MPE & Donald Ross powered welding manipulators, Pines hydraulic tube bender, Rhodes Cincinnati guillotine, Qty Miller, CEA, Murex, BOC, ESAB, CompArc, etc welding units.
Wax Injection Equipment: Modtech C35D 'C' frame dual wax injection machine, Bryant OBS-5000-H60-450-TM 'O' frame wax injection press, Bryant Z013C wax injection press (1998).
Factory / Mobile Plant: PQE Ltd power correction equip inc: Harmonic filter (2008), Lister Petter 15kva diesel generator on trailer, MTA TAE 031 chiller unit (2004), 2x IPC & FIMAP floor sweepers (2006), Challenger 800 XD TMHD 240/6 floor sweeper (2002), Tojan DEK5000SL diesel generator, 3x Karcher HDS580 & HD10/25 pressure washers, WAP steam cleaner, Qty Nilfisk hoovers & Sealey drum fans, Hoval air receiver (1992), 2 tonne spreader beam, Hyster E3.00XM-847 electric forklift truck (1995), Jungheinrich ETV320 electric side loader / reach truck (2003), Jaguar X type diesel car 53reg, Ford Focus hatchback car 51reg, etc.
Electronic Test Equipment / Laboratory / Inspection: Qty HP, Advantest, Marconi, Solartron, Tektronix etc, analysers, generators, oscilloscopes, power supplies, counters, oscillators, universal timer, meters, voltmeter, multimeters, power meter etc.
Quantum CNC CMM (2008), Baty Shadowmaster R770 shadowgraph, Kerry Ultrasonics AVD30 clean unit (1996), 5x Dartec Extensometers, self contained clean room, DiagnoSYS Visionpoint 6500 system automated optical inspection system, Montford Instruments Mini-P-MEOH/F environmental chamber, Hitachi Delphi DD42 42" plasma monitor on stand, etc.
Miscellaneous: Vixen BM55 shotblast (2008), Hodge Clemco abrasive blasting machine, Gandossi & Filli Fossati 96" rotary creaser, Kenbay wheelie bin lifter / compacter system, Loveshore / Little David semi automatic box taping m/c, F&J Williams rotary degassing unit, ABB 6 axis robot, Dexion Sppedlock pallet racking, 18 step CI spiral stair case (dismantled), extraction fans, gas furnace, Qty Slipway Equipment inc: stools / wedges / stands / high-force jacks / turfers / chain hoists / plate lifters etc, Qty bar stock, maintenance spares, BioCote lockers, chairs, Xerox / Riso A3 photocopiers, etc.