Eurospark H425/P25 EDM machine, 400x300mm table wi...
This item was sold in one of our on-line Auctions / Sales. We may have similar items available in our forthcoming Auctions, or if you have equipment to sell please contact us for free valuations, advice etc - Tel: 01778 590111 / Email: info@ppauctions.com or please get in touch with us via our contact page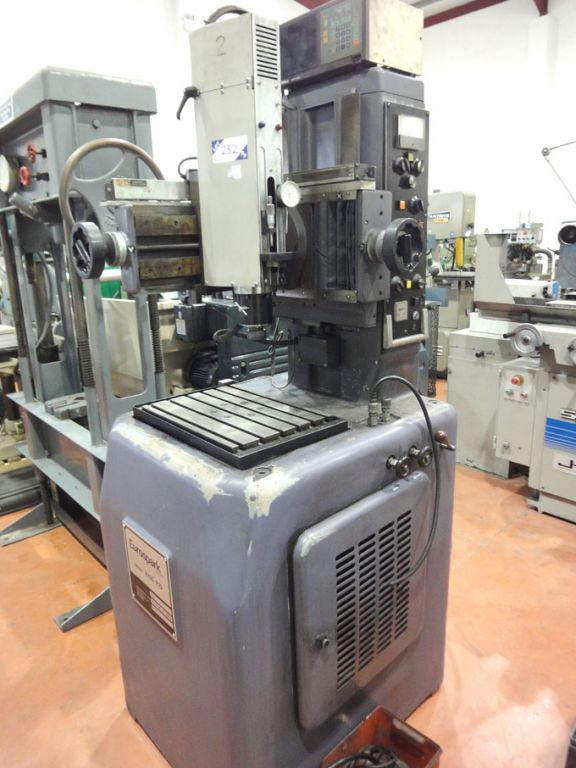 Description
Eurospark H425/P25 EDM machine, 400x300mm table with Mitutoyo 2 axis DRO, s/n 2026G
Auction - December Collective Sale
CNC Machine Tools Ltd, Goodrich, AgustaWestland & others:-

CNC
Nakamura WT250 twin spindle CNC turning centre, twin turret, multi axis, Fanuc 18i-T control, live tooling, C axis, swarf conveyor, parts catcher, tool setter, Iemca VIP80 bar feed (2000) - Located at Snetterton
XYZ Minimill 560 CNC VMC, 610x370mm table, 12 tool ATC, Siemens control, 12 station tool changer (2004)
Dahli DL-MCV-610 CNC VMC with Haas 4th Axis, Fanuc 10M control, 16 station tool changer (BT40), 1000x450mm table (1998)
Bridgeport Interact 1 MK2 CNC turret mill, Bridgeport control, 900x320mm table (1998)
Trak TRM CNC turret / bed mill, 45x10" table, 70-3800rpm, Proto Trak MX2 control / DRO (1996)
Nakamura Tome Superturn 2 CNC turning centre, 12 station turret, Fanuc 10TE-F control, 400mm b.c, tailstock (1985)
Harrison Alpha 460Plus CNC Lathe, 9" CH x 40" b.c., GE Fanuc control, 20-2000rpm (1998)
Nakamura Tome TMC15 CNC turning centre, Fanuc OT Control, 8 station turret, tailstock – powered on slide & quill, 4000rpm, tool setter, parts catcher with LNS Hydrobar barfeed (1989)
Mori Seiki ZL15S twin spindle CNC lathe, Fanuc Series OTT control, 12 & 6 station turret, chip conveyor, parts catcher, swarf conveyor with ASR 3m barfeed (1989)
Hatec AM90 short magazine barfeed
Tsubaki Chip Tote D60W12ST-SW swarf conveyor, 120" long approx
Eurobend Euromec CNC pipe / tube bender, Eurobend control, 22mm capacity (2002)

Machine Tools / Small Tooling
Drilling:
Qualter Smith R3 radial arm drill, 36" arm, 32x24" RF table, 60-1750rpm
Pollard Corona 2 spindle in line drill, 500x350mm RF table. 4 spindle in line drill.
Ajax AJ40 single spindle drill, 500x500mm RF compound table, 4 morse taper, 56-1000rpm
Meddings P8 single spindle drill, 380x380mm RF table, 100-1280rpm
Meddings S68 single spindle drill, 500x350mm RF table, 100-3600rpm
Haegen & Goebel HG6 single spindle bench drill, 500x500mm table, 710-1800rpm. Fobco 7/8 drill.
Grinding / Polishing / Honing:
Jones & Shipman 540LP surface grinder, mag chuck, DRO & dust extractor (1989)
Jones & Shipman 540LP surface grinder, mag chuck & dust extractor
Jones & Shipman 540 surface grinder, Optidress E & projector screen, mag chuck & dust extractor (1987)
Abwood Creepmaster 5M CM5H Creepfeed Grinder, 7.5kW motor, Goodwin EPS110 control, power feeds, 750x250mm table, power dresser, 220mm max dia wheel, coolant (1992) - Located at Larkhall
Jung Rotary Grinder, 350mm dia mag chuck, extraction
Brierly B32 drill grinder on base & coolant, 32mm capacity
Gromag 1101 12" double ended grinder on base & Wolf 6" double ended grinder on base
RSA Entgrat RSA-ST III single wheel polisher & deburrer, 1500 & 3000rpm
Flextol flexible polisher, 1.5kW with mop
Delepena hone, 600x400mm bed, Philips magnetic clarifier
Abwood grinder, etc.
Milling:
Bridgeport BR2J turret milling machine, 42x9" table, powerfeed, 2 axis DRO (1980)
2x Bridgeport turret milling machines, powerfeed, 2 axis DRO
Adcock & Shipley 2E horizontal milling machine, 40x10" table, 30-900rpm
Sawing:
Addison Jubilee VBS450 vertical bandsaw, 450mm throat, 560x500mm table with blade weld attachment
Startrite 14RF Vertical Bandsaw
Gate Velox 10" Power Hacksaw
Pedrazzoli Brown SN270/SI semi-automatic horizontal bandsaw, foot pedal, 180mm vice (1997)
Pedrazzoli Brown SN270 semi-automatic horizontal bandsaw, foot pedal, 8" vice
Startrite H175 horizontal bandsaw (dismantled)
Imer Sirio 370 chopsaw, 160mm vice, 200mm blade, SH-E control, adjustable swivel table (2003)
Pedrazzoli Mec Brown 75 pull down chop saw, 300mm dia blade, swivel base
Turning:
Colchester Mastiff 1400 gap bed lathe, 10½" CH x 120" b.c., 18-1400rpm with equipment inc: 3 & 4 jaw chucks, 2x steadies, tool holders & hydraulic copy attachment
Colchester Triumph 2000 gap bed lathe, 50" b.c. (1982)
Colchester Bantam 2000 straight bed lathe, 750mm b.c. with tooling (1992)
Harrison M500 gap bed centre lathe, 2000mm b.c., 1600rpm, Mitutoyo DRO (1990's)
CVA model 1A centre lathe, 6" CH x 30" b.c., 29-2220rpm
Small Tooling:
Qty tooling for Mori Seiki, Hitatchi Seiki CNC's etc inc: tool holders, tool slides, live tool collet holders, driven tooling etc.
Qty small tooling inc: vices, CI cubes, angle plates, side & face milling cutters, drills, end mills etc.

Inspection / Laboratory
Nikon V-12 profile projector, Nikon 6C profile projector, Sigma comparator, Monsanto metal swing impact tester, Brookfield digital viscometer, Torsion balance, CI & granite surface plates / tables etc.
Blundell SM1500CXE 3 zone convection reflow oven, 6x 1.5kW quick response coils, 305mm s/s ladder, 915mm tunnel, 685mm heated area
4x Bioquell Microflow horizontal lamner flow workstations, 1000W (2005)

Sheet Metal / Welding / EDM
Kingsland 35XA hydraulic universal steel worker with equipment, s/n 84787
Tauring Alfa 40 hydraulic section bending rolls, foot control with equipment, s/n 2255 (1990)
Hilmor CSA2 mechanical tube bender, foot operated, 3" capacity with equipment.
Norton 6A deep back heavy duty flypress on base. Manual tube bender.
2x Hobart Oerlikon Beta-Mig RC250K portable mig welders, 250A
BOC Transmig 225 mig welder, 225A with Sterling Multifeed 2E wire feed unit
BOC ADR300 AC/DC tig welding plant, 375A. Crompton 3kva plasma cutter, 240v.
3x Murex 210 air cooled single operator arc welder, 210A. Murex air cooled arc welder.
3x Nederman portable fume extraction unit, 900W, flexible arm, 240v (1998)
2x Nederman Filterbox portable fume extraction unit, 0.75kW, flexible arm, 240v (1994)
Hurco 900 mk2 EDM Machine, Hurco 60/10 control, 550x350mm table, Acurite III DRO
2x Eurospark H425/P25 EDM machines, 400x300mm table with 2 axis DRO

Miscellaneous
Rofin SLM11 10E laser marking machine, 1064nm wavelength, YAG medium, 10W power (2005)
GHD Hofmann EO-RE balancer, 0.5-60kg, s/n 86/21/3955
Dalmec PRC floor mounted manipulator, 170kg SWL (2001)
Dalmec MIC floor mounted manipulator, 30kg SWL (2000)
Plymovent EFO-2000 extraction unit, 0.55kW (2001)
Plymovent EFO-5002AL extraction unit, 2.2kW (2002)
CompAir Demag Start-0050 rotary packaged compressor, 0.5m3 / min capacity (1998)
Avelair 7EN7.5 rotary packaged compressor, 7 bar (1994)
Ingersoll Rand A3LG compressor on 150ltr air receiver (1996)
Ingersoll Rand 3G 6 & 3½" x 5 'V' shape compressor on air receiver
Turbex 800T2 s/s parts washer, 600mm dia basket, 7.5kW (1991)
RoundOak 12x3.5 60 ton garage press
Sealey 30 ton hydraulic press
Hyster 2.5T gas fork lift truck, Sherpa pedestrian truck, etc.